Microsoft Developer: free cloud & web app monitoring on Java SDK for Application Insights
Microsoft is big on technology shows this season, seats at its much-loved 'Build' software application developer conference will soon be filled by the devoted MSDN cognoscenti.
The event itself is already sold out and only the lucky few get to attend.
Not content with this forthcoming developer-fest, the firm used its appearance at EclipseCon this week to release the Java SDK for Application Insights.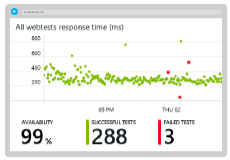 Application Insights is part of Microsoft's Azure universe and exists to detect issues, solve problems and continuously improve web applications.
Its users say that it can provide a comprehensive view of service behaviour, reliability & performance.
Microsoft's says that this release comes as part of its "commitment to making the app telemetry and analytics capabilities of Application Insights available to a broader set of cloud and web app developers" – no less.
As such, the new SDK, which enables Java developers to gain insights into their production Java web apps, is available for free here.
Microsoft Application Insights offers developers the following application usage, health and monitoring capabilities:
Application Performance Monitoring – Application performance and failure information is retrieved automatically when Application Insights is added to a web project.
Usage Pattern Analysis – Adoption, interaction and engagement trends become apparent by simply inserting a JavaScript snippet into a web page.
HTTP Request Tracking – Track requested resources, the number of unique users initiating requests and number of failed requests.
Custom Event, Metric and Exception Tracking – The telemetry API supports tracking customisation.
Application Insights Portal for Trace Log Exploration – Simply add the appender to the logging framework to explore trace logs using a the Application Insights portal.
According to Microsoft's Harel Broitman, when you publish a Java web application, you want a clear view of what users are doing with it and how it's performing.
"Your most effective plan for future work comes from a deep understanding of how people use what you've already provided: which features they like, what patterns they follow, and what they find difficult," writes Harel Broitman.
Broitman insists that developers will want to know that an application is performing well in terms of how quickly it responds and how its performance varies under load.
"If performance drops or exceptions are thrown, you'd like to be notified quickly and to diagnose the issue you'll want powerful filter and search facilities to investigate the event traces," he said.
Computer Weekly Developer Network hopes to report extensively on Microsoft Build when the event arrives, if Microsoft would like that 😉