Java datacentre resolutions, or less cheeseburgers
The global IT industry marketing machine is likely to spend the first week of 2015 spinning its best gyrations in the direction of New Year technology resolutions.
Picking three from the many hundreds likely to fall from the skies, how about the following:
1. eat less saturated fat and stay away from excessive carbs & cheeseburgers
2. be nicer to people even if they are aggressive
3. bring more automated IT monitoring into enterprise IT for Java apps
Pass the mustard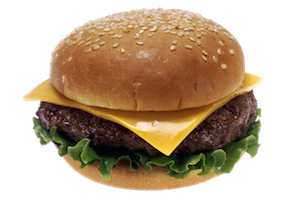 Obviously hamburgers and antagonistic troublemakers have their place, but why would automated monitoring be worth a mention?
LogicMonitor and its marketing division clearly forgot that it was Christmas and spent some of the holiday talking about how its tools are allegedly capable of improving the security and monitoring functions we need for running Java applications.
Plus, they are free…
… which judging by the swell in the amount of credit card advertising seen in January, can't be a bad thing.
First up its DNS Change Tracker, this tracker technology provides security within datacentres by acting as a "revision control system" for the DNS, so you can keep track of your DNS (Domain Name System) changes.
But why do DNS changes happen, what are they and why do they matter to datacentre security?
"DNS is the traffic director of the Internet. It essentially tells the Internet where to go for your website. Changes are made when companies add infrastructure, change their network topology, need to add domains and more. If DNS is changed maliciously, you'd want to have a notice of it as it could change where your customers go, for example, sending your traffic to a third party site disguised as yours that collects your user's passwords or downloads viruses onto their systems. Both ICANN and Craigslist have recently suffered from these types of issues. And the change does not have to be malicious. Small typos in DNS entries can cause havoc or outages that last days as incorrect DNS entries can take a while to propagate through the Internet," said Jeff Behl, LogicMonitor's chief network architect.
Also here… second up in the LogicMonitor pressie pile there is a product suite of JMXtop and JMXstat.
What on Earth is that?
This is a command line base tool that will allow anyone (i.e. a software application development professional but more likely a sysadmin or a network engineer) to monitor Java applications.
The tools are best utilised during debugging or troubleshooting because they collect real-time performance metrics on Java applications using JMX (Java Management Extensions).
NOTE: JMX are a set of specifications for software application and network management in the J2EE (Java 2 Platform, Enterprise Edition for mainframe computing) development and application environment.
Nobody else offers a command line tool for Java applications this way says the firm.
It's Christmas in datacentre network engineer programming land, all year.
Deeper dive clarifications
Additional colour and explanation on this topic is provided by Russel Ridgley, head of cloud services at Pulsant — a company that specialises in managed cloud hosting, colocation and application hosting services.
Why do DNS changes happen? What are they?
DNS is a service that everyone uses but perhaps doesn't realise. It turns your friendly web address that you type into your browser into an internet address your computer can understand. This process is a fundamental part of what most network-based services use to communicate between each other.
Providers using DNS as a method of helping users reach their services use this mechanism in many clever ways. These include making multiple devices appear as one simple service to customers but also as a method of redirecting users to a new location or version of a service when it is available. This switch over involves changing the network address that is given back to users when they ask for a particular name. DNS changes of this type are commonplace on networks, including the internet, but occasionally run into problems especially when users or systems remember, or "cache", the addresses that are returned and potentially don't receive the updated address. This can result in an apparent loss of service for some users.
Why do they matter to data centre security?
DNS changes have very little impact in terms of overall data centre security as it is normally the services themselves that are protected rather than their naming. Certain attack methods do, however, hijack primarily end users' DNS in order to return faked addresses and have users log in to systems believing them to be legitimate, using their actual login credentials, but having their details stolen and potentially used against them. There are several methods to prevent such end-user breaches from affecting security, from simple items such as certificates that confirm the identity of sites, to two-factor authentication with systems such as those in widespread use in banking.