GitHub for mobile: the portable collaboratory corroboratory repository 
If there were ever proof needed that we're a planet going to mobile-first technologies, then surely we need look no further than the extension of GitHub to mobile.
Officially known as GitHub for mobile, the software development, version control, source code management, continuous integration and all round open source code repository (owned by Microsoft since 2018, but still operating independently) technology today has some 50 million users… so perhaps it's only natural to expect some of them to want to perform code review and collaboration functions while they are on the go.
Ryan Nystrom, director of engineering at GitHub says that one engineer even checked in on some code while boating down the Amazon river.
It appears that many mobile users aren't just triaging workflow notifications in the app, they are actually reviewing and merging code.
The service launched in March 2020 and saw close to 1-million 700,000 reviews and over 350,000 merges.
A new version emerged last month with a 'bunch' of new features that make code review easier, faster, and more productive.
"The new version of GitHub for mobile features an overhaul of the code review experience. For example, it can be super painful to read code on your mobile device when the lines keep wrapping. In fact, the ability to turn off [the] line wrapping is the top feature request from the community. So we added a toggle for that," enthused Nystrom.
He also notes that users have asked for a little more control over how their commit appears to the team. So, to answer this request for control, developers can now change the email associated with a merge and edit the commit description.
"Last year, we announced support for comments on multiple lines of code in our web interface. This is helpful when you need to explain how your suggestion fits into a broader context. Now you can do the same thing in GitHub for mobile. Just long-press to enter multi-select mode," explained Nystrom.
… and if you're dealing with larger reviews that span multiple files?
Nystrom says that tapping the new "Jump To" icon lets users quickly bounce between them so you can review everything in a snap.
GitHub for mobile is available today from Google Play or the App Store for individual plans, Team, and Enterprise Cloud. GitHub Enterprise Server will be supported later this year.
Content Continues Below

Download this free guide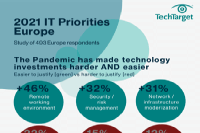 IT Priority Budgets 2021 Infographic
After surveying near 500 European IT sector professionals, the jury is out on what companies across the continent will be spending on in 2021. We dive into what spend will be easier to justify, if budgets for IT companies are on the rise or fall and what the 2021 project rankings are for most in the new year. Download this PDF infographic to find out what the results showed.