Can PostgreSQL break Salesforce's love/hate Oracle bind?
Salesforce's Marc Benioff makes little secret of his true feelings for Oracle's Larry Ellison.
As a former Oracle employee, Benioff famously split off to start up Salesforce from a rented apartment in San Francisco with the intention of breaking many of the traditional perceptions of not only enterprise software but also, crucially, its delivery via a Software-as-a-Service delivery mechanism.
Various milestones and vociferously delivered keynote speeches later, Benioff still takes pot shots at Ellison in various formats — one of the most recent being an advertisement which illustrates Salesforce's long term ambitions for a workable database alternative (or diversification at least) to it using Oracle's own software …
… a recruitment ad posted late last year stated that, "We are hiring 5 Database Engineers this year and 40-50 people next year for a huge PostgreSQL project @ Salesforce.com"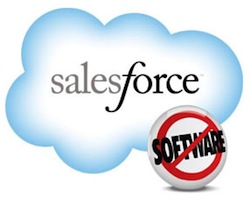 NOTE: PostgreSQL (pronounced "post-gres-sQ-L") is an open source database. It runs on Linux , UNIX , Mac OS X , Solaris , Tru64, and Windows and supports text, images, sounds and video.
Oracle meanwhile is keen to remind us that Salesforce continues to establish the entire foundational structure of the Salesforce.com cloud on the shoulders of the Oracle database.
Salesforce notably hired a leading contributor to the PostgreSQL project by the name of Tom Lane. A renowned computer scientist in his own right, Lane is noted as a member of the core steering committee of PostgreSQL.
So could PostgreSQL help re-architect Benioff's dream and break Salesforce's love/hate Oracle bind?
To answer this question — there's an awful lot of "rumours suggest" commentary out there on the web, which we will avoid on this occasion.
The truth may out once we see what the open source database community (PostgreSQL and/or others) is ultimately capable of delivering in terms of deployments for the type of data throughput and analytics we are talking about here…
… that is to say: can an open source database provide more flexibility than Oracle's proprietary (albeit beautifully packaged) behemoth? Yes, probably. But can it do so with the required levels of enterprise level robustness and reporting? We're not 100% sure yet but we think so.
Heroku (the cloud-based development platform as a service (PaaS) provider) depends and relies (quite successfully it appears) PostgreSQL.
According to the development team, the flexibility of PostgreSQL is reflected in the diversity of organisations that have adopted it, "For example NASA, the Chicago Mercantile Exchange and Instagram all rely on it to perform mission-critical applications."
So could PostgreSQL break Salesforce's love/hate Oracle bind?
To answer this question — Salesforce has scheduled its Dreamforce user conference out in lonesome November this year — a whole month and more apart from most of the other cloud and/or developer user conferences…
… we're just sayin' OK?