Blackberry Messenger (BBM) to run on Android
Reports emanating from BlackBerry's annual developer conference confirm that the firm is planning to offer the Blackberry Messenger (BBM) service on other platforms.
Google's Android and Apple's iOS operating systems are scheduled to feature BBM by the summer of 2013.
Rival platforms
This is the first time BlackBerry has offered its popular BBM service on rival platforms.
Initial functions will include texts, photo messages and group sharing functions.
Blackberry chief Thorsten Heins (no Z please) reminds us that more than 60 million Blackberry owners already used BBM at least once a month but…
… popular knowledge suggests that BBM is more popular with schoolchildren and teenagers than business professionals.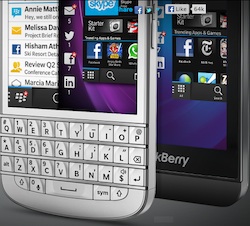 "It's a statement of confidence. The Blackberry 10 platform is so strong and the response has been so good that we are confident the time is right for Blackberry Messenger to become an independent multiplatform messaging solution," said Heins.
As admirable as this move no doubt is, could this be a case of BlackBerry once again confusing mixed marketing messages? Does it want to target business users or consumers or both — and can it pull both tricks off simultaneously?
For example…
The firm also this week unveiled BlackBerry Enterprise Instant Messaging (Enterprise IM) 3.0, a free update of the company's enterprise instant messaging solution, enabling customers with BlackBerry 10 smartphones to communicate over Microsoft Lync, Microsoft Office Communication Server or IBM Lotus Sametime.
"To be competitive in today's fast-paced marketplace, you need to enable your workers with tools that let them collaborate in real time," said Frank Cotter, VP of mobile computing at BlackBerry.
The independent view
What should we take away from these new announcements?
"BBM was a surprise success for BlackBerry, despite lacking the slickness of other IM services. However, the BBM audience has now fragmented across multiple devices and platforms," said Chris Green, principal technology analyst at Davies Murphy Group Europe.
"By going to a multi-platform model for BBM and the associated sharing services, BlackBerry can not only bring those lapsed consumer and corporate customers back into its fold, but has a viable means to showcase the new BlackBerry platform and services to potential handset buyers, both consumer and corporate, that otherwise would not consider its new range of hardware," added Green.