An HTML5 centric open source browser-based Office suite
Self proclaimed "disruptive" open source software company Open-Xchange (yes that was CAPS-DASH-CAPS-lower case) has launched OX Documents, a cloud-based office productivity suite.
The firm asserts that its OX Text application (an in-browser word processor) is a multi-device editing and collaboration tool that will work on major text document formats without compromising document integrity.
OX Text offers direct editing capabilities for:
• Microsoft Word .docx files
• OpenOffice file and …
• LibreOffice .odt files.
The (positively) disruptive firm says that it has achieved "non-destructive support" of Microsoft Office and OpenOffice or LibreOffice file formats.
NOTE: Multiple users can view and edit the same document in real time by sharing editor's rights held by a single user at a given time.
XML-based documents can be read, edited and saved back to the original format at a level of "quality and fidelity" previously unavailable with browser-based text editors says the firm.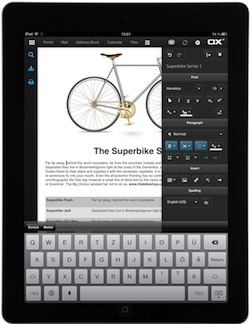 OX Text is joined by Presentation and Spreadsheet to complete the OX Documents Suite later in 2013.
Open-Xchange CEO Rafael Laguna has explained that a crucial factor in the development of OX Text was not to introduce yet another proprietary file format to further add to the productivity compatibility jungle.
Laguna assures as follows, "We are not breaking anything and are leaving everything in place. OX Text can edit about 80 percent of a Word document's elements and 100 percent of the document survives with the formatting preserved."
"Existing cloud-based tools insist that you adopt their format before you can begin the edit process that creates ugly conversion artifacts, putting a brake on fast adoption of collaboration in the cloud. Perhaps most importantly it always keeps the original document format by not attempting to alter or convert non-compatible native formatting features. This means that when you reopen the document in Word it is formatted as originally intended, without any alterations, thus preventing any format corruption, data loss or errors," said Laguna.
OX Documents is available separately and as an extension on the functionality of OX App Suite, a web-based personal desktop with tools for management of email, calendar, documents and social network feeds.
Developed to full advantage of HTML5 OX Text will be available early April released under GNU General Public License 2 and Creative Commons Attribution-NonCommercial-ShareAlike 2.5 License.