The whole WFH/ WFA (Work From Home/Anywhere) initiative that was somewhat enforced on the world's working population as a result of the "P" word, has largely been well received, but a new survey from sassy Cato Networks shows that it hasn't come without its cost.
Headline news from the survey is that 78% of enterprises reported spending more time supporting their remote workforce since the pandemic. Exactly how much time varies between organisations, of course, but nearly half of 2,686 respondents (47%) say support times grew by 25% or more. The survey notes that, during the pandemic, enterprises have had to quickly adapt to a work-from-anywhere business model, moving the workplace from the office to an individual's remote location. Many enterprises chose to invest in their existing and known security platforms, particularly centralised VPN servers (42%). Most respondents (59%) indicated they backhaul remote access traffic today to a VPN server. In the post-pandemic environment, 82% of respondents indicated that their companies will continue with work-from-anywhere or remote only models. This is reflected in their priorities post-pandemic. Providing secure Internet access everywhere continues to be the top priority for 67% of respondents.
On the plus side, it is noted that, by implementing a work from anywhere model, businesses are transitioning to a more efficient and collaborative way of doing business, allowing them to better meet the needs of their customers, as well as their employees. But while a hybrid working model may be good business, the rush to implement remote access at scale has created significant problems for IT. 78% of respondents say they're spending more time supporting remote workers; 47% of respondents reported time supporting remote workers grew by 25% or more. Respondents broke remote user challenges down into three areas — service delivery, application performance, and security:
Service Delivery: Remote users suffer in most cases when accessing services. Half of respondents indicated that users complain about connection instability (50%) and poor voice or video quality (27%).
Application Performance: More than a third (37%) of respondents indicated that slow application response was the most dominant remote user complaint. For those that backhaul traffic, 30% said application performance for remote users was worse than in the office versus 22% for those not backhauling traffic.
Security: Nearly half (44%) of respondents indicated they could not provide remote workers with the same level of security for all traffic as their office counterparts. And the vast majority — 86% for Internet traffic and 83% for WAN traffic — were unable to provide the same level of security for remote workers as they do for office workers.
The irony here is, having spent much of my 30 odd years in IT both focusing on WFH/WFA technologies and, indeed, working from a home or remote environment, all of these highlighted problem areas are readily solved by existing technologies – not least many of which I know and have tested inside out! Cato itself, having organised the survey, can provide a solution to many of the security issues that WFH/WFA has magnified, being based around a SASE platform, given that – with this solution – all users and locations come alike. Vendors I've worked with, such as Aritari for VoIP and data optimisation, and Richmond Systems for remote access and optimised service management provide – between just those three vendors – a perfect WHF/WFA environment. Maybe I should become a consultant 😊
Content Continues Below

Download this free guide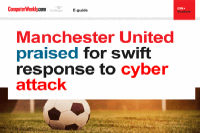 Manchester United praised for swift response to cyber attack
The Theatre of Dreams briefly turned into The Theatre of Nightmares as Manchester United Football Club suffered a cyber-attack on their systems on Friday 20th November. This e-Guide dives into more depth about how the attack happened and what Manchester United's cyber security team did, in order to prevent a loss of data and keep a clean sheet.