Windows on ARM: test driving the Lenovo Thinkpad X13s
The ThinkPad X13s is Lenovo's first notebook PC powered by an ARM chip. Weighing just 1.06 kg, it uses the Qualcomm Snapdragon 8cx Gen 3 SC8280XP Processor (3.00 GHz), offers integrated graphics and runs Windows 11 Pro 64 for ARM.
In terms of connectivity, it offers Wi-Fi 6E Bluetooth 5.1 and a 5G modem. The keyboard is backlit and there's a fingerprint reader.
For those looking to replace or purchase a new PC to run Windows, the first barrier when assessing the x13s is that it is not based on an x86 processor. This will have implications on application compatibility.
App compatibility
According to Microsoft's documentation, the WOW64 layer of Windows allows x86 code to run on the Arm64 version of Windows. x86 emulation works by compiling blocks of x86 instructions into Arm64 instructions with optimisations to improve performance. A service caches these translated blocks of code to reduce the overhead of instruction translation and allow for optimisation when the code runs again. Microsoft says the caches are produced for each module so that other apps can make use of them on first launch.
What this means is that the device should be able to run existing Windows applications unmodified. Some applications will work. We tried Garmin Connect to test if the emulation would work with a USB-connected device. It did. Others, like the corporate VPN, failed, although the client software did connect to the corporate VPN. We did not investigate whether this was a VPN configuration issue or whether the VPN client was not fully compatible. Other users have reported incompatibility with Google Drive, limited functionality with Adobe Creative Suite but software like Microsoft Office and Autodesk viewers appear to work without limitation.
Lenovo said that along with Qualcomm Technologies and Microsoft, it is continuously collaborating with top tier software providers through the Microsoft App Assure programme for Windows on Arm to support native compatibility and enhanced experiences of business-critical applications.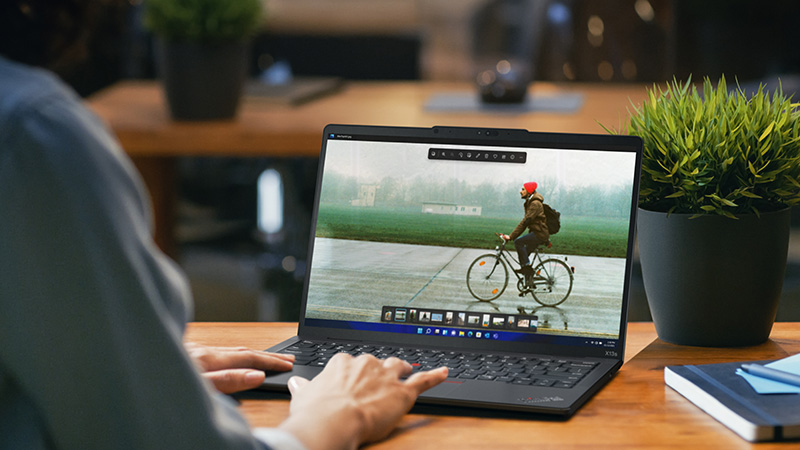 While Computer Weekly did not test the battery life of the Thinkpad X13s extensively, the general impression is that it can easily last a day. When not being used daily, we found that the four cell Li-Polymer 49.5Wh battery in the Thinkpad X13s seemed to be able to hold its charge for several days.
Among the interesting facts about the Thinkpad X13s is that it is built with 90% certified recycled magnesium in the top and bottom covers, 97% PCC plastic in the battery Printed Circuit Board (PCB) cover and battery frame, and with recyclable carton and bumpers in the packaging.
According to Lenovo's Product Carbon Footprint (PCF) Information Sheet, the Thinkpad X13s has a Product Carbon Footprint Value of 722 kg of CO2e. The datasheet shows that 15% of this is from usage, 10% from transportation. End of line, contributes 0% while the remainder, 75% of the X13s' carbon footprint is accounted for in manufacturing. Here, the mainboard accounts for 25%; the screen contributes 27% of the device's overall carbon footprint and the power supply's carbon footprint is 9%.
The ARM laptop market
At the time of writing in April 2023, the Lenovo Thinkpad X13s is priced at £1,515 (incl VAT), which puts it well and truly at the premium end of the notebook market. It's in the same price bracket as premium Intel-powered notebook PCs. For instance, currently, Dell's i7-powered XPS 13 Plus Laptop retails at £1,539 while HP's Envy Touchscreen Laptop, which uses an Nvidia GeForce RTX 3060 graphics processor and Intel i7, costs £1,500.
With the Thinkpad X13s Lenovo is delivering a premium ARM-powered laptop PC for running Windows applications. Apart from the MacBook Air running MacOS, which uses the Apple M1 (ARM-based) processor architecture, the majority of ARM-based laptops are Chromebooks running ChromeOS. A handful use Windows on ARM. These include the £1299 (incl VAT) Microsoft Surface Pro 9 (with 5G) and the £1999 Samsung Galaxy Book 3 30, which also includes a 5G modem, but is priced at £1549 without 5G.
At the other end of the scale are budget devices like the ARM-powered Lenovo 10w, which has a 10-inch screen and runs Windows 11, and HP 14-EG0001NA 4G LTE laptop. Dell recently introduced the Inspiron 14, powered by ARM, which is not yet listed on Dell's UK site but has a US price of $549.
One of the benefits of the ARM architecture, at least according to ARM, is that devices can be made thinner and lighter, are fan-less and offer multi-day battery life. Perversely, the fact that it is a new architecture, means software providers are beginning to write native Windows on ARM (WoA) applications. So rather than running applications effectively in an emulator using WOW64, ARM claims these applications will then have new optimisations to take advantage of all the performance and power efficiency benefits of WoA. In effect, as the years go on it claims that users will see an increase in performance and value
From our brief test drive, what is clear is that the Qualcomm Snapdragon ARM-based laptops like the Lenovo Thinkpad X13s, are more than adequate at running Windows applications. But, because older applications are being emulated using WoA, they may not run as expected. That said, modern applications and those that are SaaS-based should have no problems.