Top five most expensive iPhones: some of the most costly smartphones in the world
The iPhone 5S and its golden Bond-style finesse has us all thinking about technology upgrades. The 5S is fancy, and 5C may be colourful, but if you're going to cough up for an stunning phone, you want it to be exactly that. Just an iPhone isn't enough; you want to own the most expensive, sophisticated and shiny iPhone on the market. So here are 5 of the most expensive iPhones in the world, whose price tags would shock even the richest among us:
Amosu Couture Gold Swarovski iPhone 5
This luxury iPhone is the 5C of high-end iPhones, costing only £2999. It's covered in 24 carat mirror gold, and the sides and menu button are dusted with 600 Swarovski crystals. If that's not fancy enough for you, the phone comes with a case made of calf leather in a colour of your choice. It might seem decadent, but once you've seen the other phones on offer, this phone will seem like a child's model.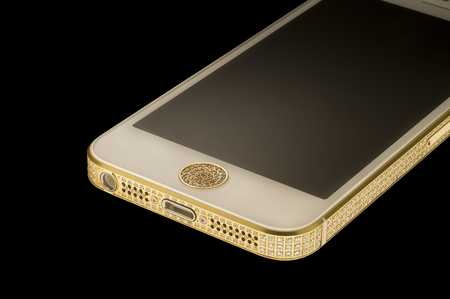 Continental iPhone 5 Rose Gold Collection
As if covering an iPhone with gold wasn't enough, Continental have gone one further and covered an iPhone 5 in Rose Gold, giving it a pink tinge. They've then topped it off with diamond-cut bevelled edges and thrown on some diamonds for good measure. How much will it set you back? Only £12,499. Bargain.
This isn't the only phone they do either, they offer phones covered in all sorts of different coloured diamonds. They also offer a 4S in vivid and fun colours, such as 'Wasabi Green' for £999. Unfortunately the introduction of the colourful 5C, and its reasonable price tag, has made these models a little redundant.
Gold Genie Solid Gold Superstar iPhone 5S
Branded a "work of art", this phone by Gold Genie has a textured pattern printed into gold plating surrounding the phone's exterior. What it lacks in diamonds it makes up for in gold, as the casing is made entirely of solid 18 carat gold. Costing a massive £48,000, you'll be glad to know it also comes with a cherry wood display case to keep it in when you refuse to leave the house with it through fear of being mugged.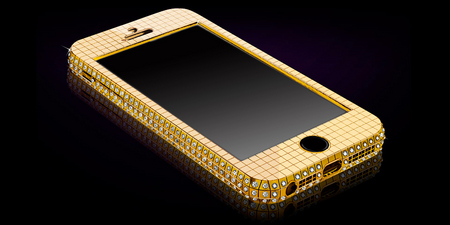 Gresso Time Machine iPhone 4
Although only an iPhone 4, this luxury handset is still pretty swanky. The back of this phone has been replaced with mineral diamond-coated glass, and houses six Swiss watches which keep the time of the six busiest business cities in the world. You'll never miss and international conference call again. This will only set you back around £3700. If you're looking for a fancier version, however, there's the Lady Blanche model, which features three watches and three insets containing diamonds, costing around £18,595. I think I know which I'd go for.
Stuart Hughes Black Diamond iPhone 5
Stuart Hughes are well known for their high-end iPhones, with one of their models including a platinum storage chest which is encrusted with rare stones such Opal, Rutile Quartz and polished bones from a TREX skeleton. Now they've outdone themselves with what has been dubbed the most expensive smartphone in the world. The £10 million phone is covered in over 100g of solid gold, 600 white diamonds and 26 carat black diamond. To top it off, the touch screen is made of Sapphire Glass. If that's not luxury, I don't know what is.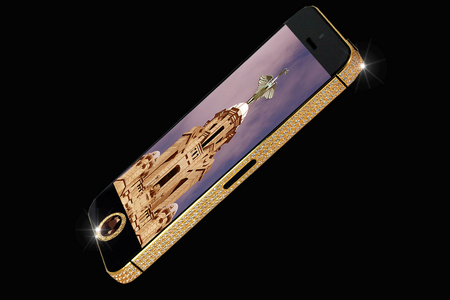 What's the most you'd be willing to shell out for a 'luxury' iPhone?