Three things to consider when looking at buying the Samsung Galaxy Z Flip3 5G
As someone who already owns the original Samsung Galaxy Z Flip, I did wonder if it was worth upgrading to the Galaxy Z Flip3 5G.
Is the trade-in offer worth it?
As a registered Samsung user, I received a number of emails from the firm, tempting me with upgrade offers, and the £450 trade-in offer to upgrade to a Galaxy Z Flip3 5G definitely seemed compelling. For the 128 Mbyte version, the trade-in brings down the price to £499, which can be paid in one go, spread over three months via a Klana interest-free deal, or spread over 36 months (again without interest) using PayPal.
If you have never done this before, the actual process is relatively painless. Samsung provides instructions on getting the IMEI number for your handset and you use this to find out how much your old device is worth. Samsung also offers trade-ins for various iPhones and other Samsung, Google Pixel and Huawei handsets. For instance, the trade-in value for an iPhone 11 Pro Max 512GB is £550. At the time of writing, a quick check on eBay shows that this iPhone in "used" condition sells for between £450 and £750.
As for my old Galaxy Flip, these seem to be selling in the used market for between £440 and £550. So, all in all the £450 trade-in value seems like a fair deal. After the new device arrived I also received a bag with a label to post my old phone back to Samsung. Postage via Royal Mail is free, but it is not insured (you have to post via Special Delivery to have it insured).
Do you value Samsung Care+?
The second bonus is that, at least when I ordered, Samsung offered one year's Samsung Care+ with the new Galaxy Z Flip3 5G. This would normally cost about £12 a month, and covers screen damage. Hopefully it is something I never have to use, but, personally, it's good to know I'm protected if something does happen. It is also good to know that it has an IPX8 rating, which means the Galaxy Z Flip3 5G will survive a dunk in fresh water at a depth of 1.5 metres for 30 mins. Again, while people are unlikely to take their new smartphone out for a swim, accidents do happen and, for me, the IPX8 rating should mean it is more rainproof than the model it replaces.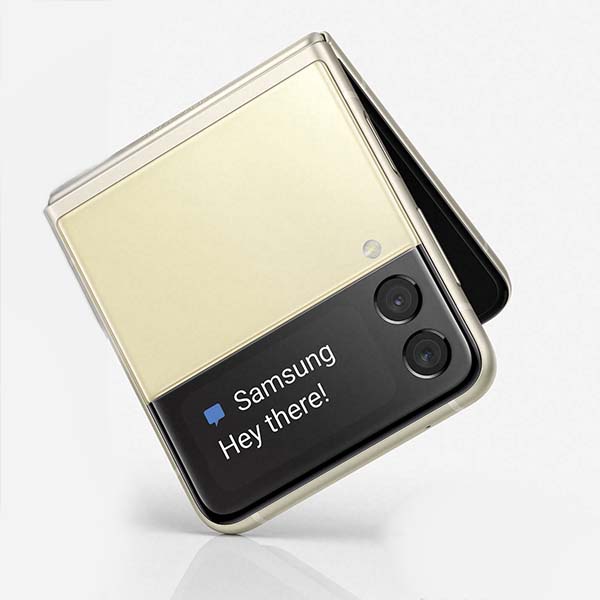 Do you want a flagship handset with a difference?
Given the cost (£950 full price), there are going to be the inevitable comparisons against Samsung's flagship smartphone, the S21 and S21+. When unfolded, the Galaxy Z Flip3 5G is a similar size to the Galaxy S21+ and both use the same processor. The big differences are the camera – 8k video on the S21+ compared to 4k on the Galaxy Z Flip3 5G – and battery life. Due to the folding design, the Galaxy Z Flip3 5G only has a 3300mAh battery compared to 4800 mAh on the S21+. So, if you constantly use the main screen, battery life is going to be less than a day,.
Looking at the camera, while the S21+ does offer a 64 MP (megapixels) camera compared to 12MP on the Galaxy Z Flip3 5G, if images are only ever going to be uploaded to Instagram or another social media site, arguably, 64 MP is overkill, and uses a lot of storage and bandwidth.
But where the Galaxy Z Flip3 5G differs is that, unlike the S21+, it has a 1.9" front screen, which makes it far more usable than the teenie screen on the original Galaxy Z Flip.
Other things to consider
While it is not unique to the Galaxy Z Flip3 5G, Samsung offers integration with Windows 10 with Link to Windows. This provides access to the phone from within Windows. For those people who spend a fair proportion of their day at a computer, this avoids the temptation to wake up the handset to check messages. The integration means that it is even possible to make and receive calls entirely via the Your Phone app in Windows. In theory, this should help to extend battery life during the work day. As for normal use, numerous reports on the web suggest that the Galaxy Z Flip3 5G will last about 11 hours on a full charge.
Samsung is the market leader in smartphones and has the reach to influence how the smartphone market evolves. If the original Samsung Galaxy Z Flip was a total flop, there would be no reason for it to bring out a new version. But the new Samsung Galaxy Z Flip3 5G takes the original device to the next level. Apart from the camera and battery, it has a remarkably similar specification to the S21+.
And while some potential buyers may compare the Samsung Galaxy 21+ against an Apple iPhone 12 Pro Max, nothing really compares to the Samsung Galaxy Z Flip3 5G. It represents a flagship folding phone that comes in below the £1000 mark.