Starbucks mobile money error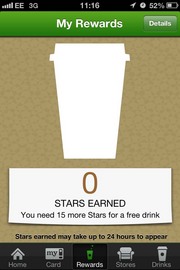 Having a great interest in the development of the mobile wallet, I was left thoroughly disappointed by Starbucks this weekend.
Starbucks launched its My Starbucks Rewards loyalty campaign in the UK at the beginning of this year. The idea being that if you top up your card and use it to buy drinks from the coffee bean mogul, you can collect 'stars' every time you use your card. After collecting 15 stars the next drink is free.
The campaign is also available through the Starbucks mobile app. You can top up your account and pay via your mobile device by scanning a barcode at the point of sale, you can also see how many stars you have, as well as find a local shop and 'build your own drink'.
I was more than happy with the app, glad to find a retailer using this technology in the UK… until I collected my fifteenth star. The app then congratulated me on my free drink and said I would receive a coupon in the POST in the next 4-6 weeks.
Why can't I just redeem it through the same barcode system? Why is this information not on my account? Or why can't I just have a code which I give to the barista on my next visit?
If you intend on taking on a mobile payments campaign, you have to be able to see it through. Surely the mobile payments journey for the customer should end with redeeming drinks via the mobile device, or at least via an email code?
There is no point in encouraging customers to use their mobile devices to pay for drinks and collect points, when actually redeeming your free drink is not part of the mobile experience and also very convoluted – I have three possibly addresses this coupon could go to.
This is especially irritating as I think of Starbucks as an evangelist in the mobile payments space.
Apple use them as an example in its US marketing of Passbook (which won't actually become a reality until the end of September and they are one of the few retailers in the UK to have mobile barcode scanning capabilities.
The Starbucks app was one of the first apps I downloaded on my iPhone. It was a fantastic example of how mobile money could be useful and rewarding, while also proving that near-field communication (NFC) isn't necessarily the catalyst of using your phone as a wallet.
So why why why Starbucks, would you make such an error in the final hurdle?
I would love to see mobile money get properly off the ground, but with mistakes like this from companies who I thought knew what they were doing, I'm beginning to lose faith.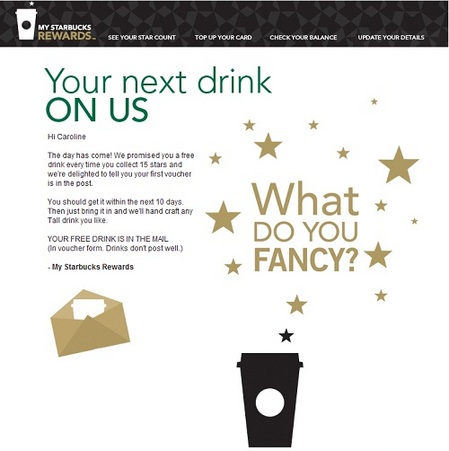 Edit 02/10/12:
A spokesperson from Starbucks in the UK however has commented: "There are no changes planned to the My Starbucks Rewards programme in the UK at this stage and customers will continue to receive the same benefits that they have come to love from Starbucks. We are however we are working to bring digital rewards to our customers over the next year."
So no well-rounded complete mobile strategy for us Brits anytime soon then?