Microsoft unveil phones for Windows Phone 7 OS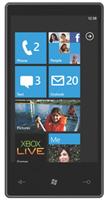 Microsoft have unveiled three handsets that will work on the new Windows Phone 7 OS.
The Samsung slate, an unbranded Asus unit (right) and the LG slider will be the first phones to showcase the new operating system.
I'm not too excited about Windows Phone 7, not only because the name is terrible and too long but also because yes it looks nice but I don't think it delivers anything new.
I am excited about the Xbox Live synching but that's it. Microsoft continuously get mobile wrong and it'll need something truly amazing for me to convert.