Hands on with the Epson EB-1945W projector
The Epson EB-1945W projector sits in the mid-high end of Epson's fleet of products. This projector is targeted at larger meeting rooms, which sit 30-50 people, or university lecture theatres, as it has a maximum diagonal screen size of 280-inches.
The first thing you notice is how clear cut and bright the image is, this is down to the projector having a resolution of 1280 x 800 and a brightness measurement of 4,200 (brightness in projectors usually sits between 2.5K – 10K).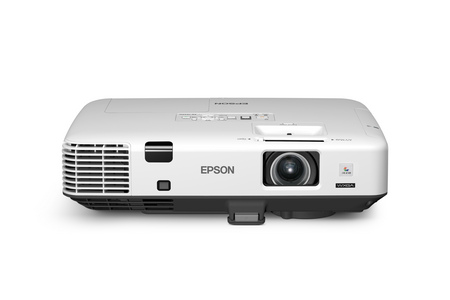 WiFi
This version of the projector also has WiFi as standard. It has a USB dongle which you plug in to turn it into a WiFi projector and you can then connect your laptop or mobile on a wired or wireless network, as well as remotely managing it through Epson software.
There is also a free app for iOS and Android which you can use for basic projection control from your mobile device. It accepts most file types through the app, however iOS accepts Office documents, while Android doesn't.
When projecting video Epson recommends that you use a cabled connection, however on test a 720 short video worked with minimal jumping over WiFi, which was very impressive
Portability
While it has the connectivity to be ideal to be fixed in one place, it is also fairly portable, being easy enough to pick up and place in a different room. It also features screen fit and keystone correction functions, which are very useful if you intend to move the projector around regularly, rather than keeping it in a fixed position. The keystone correction fixes the distorted tombstone effect that you get if you project an image at an angle, or if the projector is not centred onto the screen. The distortion can be set to be automatically recognised and corrected by the projector in seconds.
Connectivity
The projector supports display port and HDMI (which is useful as most business laptops do not tend to support HDMI, while many projectors have gone over to this standard). And it also has a 1.6 optical zoom which allows the installer much more flexibility when fixing the product in a particular position.
A nice little feature was the AV mute, which is a window which you can close to power down your presentation into sleep mode, if you wish to focus attention away from the presentation for a moment. When you open up the window again you immediately get the presentation back.
I found the USB port one of the clever add-ons to the device. Plug in your memory stick and away you go with your presentation, no need to find the WiFi network on your mobile, or laptop. In a situation of multiple presenters it would also reduce the need for people to arrive early, or even worry that the laptop will run out of battery, as the presentation can be run straight off the memory stick (however, you'd have to convert your PowerPoint to PDF, as again, Office is not supported).
The Epson EB-1945W projector has been available since last summer, and at £1,568 (inc VAT) may be seen as the cheaper option for such quality and portability on the market.