HONOR Watch GS Pro rugged smartwatch 
Are you a so-called 'urban adventurer' at heart? That's what Huawei sub-brand company Honor wants you to be with its latest smartwatch.
Actually, you could be an office-based user (oh okay, it's 2020, home office) or other white collar professional and still get a lot out of this unit, but if will you insist on clambering up mountains or wading through murky back-waters, then at least you'll only need one wristwatch.
Spoiler alert, if you've never used a smartwatch before and you have a certain set of needs, then this product can be (almost, well, a bit) life-changing.
Out-of-box experience
The HONOR Watch GS Pro rugged smartwatch comes with almost no instructions, a minimal quick start guide and one of those guarantee disclaimer type booklets written in 17-languages. Users won't need to worry too much about any instructions i.e. you can 'teach' yourself how it operates with some gentle experimentation and playing around very intuitively.
The one thing you do need to do is to download the Huawei HEALTH app (logo shown below) on your phone from the Google Play store or the Apple App Store – so yes, it's a smartwatch that does lots of smart things without you needing your phone in your pocket, but the extras that does bring you are worth it.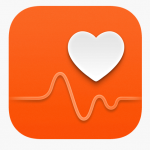 Thankfully, the city walking team at Inspect-a-Gadget are keen fans of the above-noted health app and we've been tracking our steps with it for some years now in preference over using a Fitbit or any other type of core health app device.
The Honor Watch GS Pro synchs nicely with your smartphone and your steps shown (on the phone app) are the combined total of any movement you make with the phone and the watch itself.
Email on a flick of the wrist
So the big question, does it do email? Yes it does, in a limited form… the Honor Watch GS Pro flags up a blip with the subject line and sender as an alert, right there on your wrist. This is superb functionality i.e. now we can walk along and see what's hitting the inbox without ever needing to actually action anything or reply or delete or whatever until we know that an important mail has come in.
Yes, it would be great to be able to read more of the message and perhaps even get speech recognition to interpret a reply and send it off, but technology isn't quite there yet and we can probably expect that within the next five years.
The Honor Watch GS Pro is clever enough NOT to send you those alerts when you take it off and set it down, especially when you're charging it… and users can set a Do Not Disturb simply by swiping down from the home screen.
Our preference was to use Settings to change the one majorly programmable button on the bottom right of the watch to "Notifications" to see emails. Although these are flagged semi-automatically, it's great to be able to invoke that core function any time, from a button.
There's a surprisingly long 25-day battery life, but that figure claim would surely be lower if users play a lot of music out of the watch out load on its built-in speaker – although clearly you're meant to sync earbuds (we used Apple earbuds)… and you use the Health app to 'transfer music to your watch' from your music library on your smartphone.
The transfer speed is okay, but not lightning fast, so pick your favourite tracks first and get those loaded over… total storage should support around 500 songs unless you are seriously into Pink Floyd and Genesis.
Tough enough?
This device is of course meant to be ruggedized… and it really is. We got to play with the cream strap version (rather nicer than standard old Casio digital watch black) and it's wipe cleanable and also passed by 14 types of MIL-STD-810G/GJB 150A tests, including low pressure (altitude), high temperature, low temperature, temperature shock, contamination by fluids, solar radiation, salt, sand and exposure to poisonous frogs (probably) and so on.
"Supported by high-precision built-in dual satellite positioning systems, the HONOR Watch GS Pro is equipped with route back function and route deviation alert to help users explore their potential without worries. In addition, the HONOR Watch GS Pro supports more than 100 workout modes and workout data recording including mountain climbing, hiking, skiing, indoor and outdoor running and free training," notes the company, in its product specs.
They're not kidding… you can set this smartwatch to track how well you are doing at Dragonboat Racing, perhaps a little nod to Chinese heritage there eh?
Are they tracking you? No, promises Honor, data will only be used to provide services within the device.
It also comes with intuitive health features to monitor users' wellbeing. The stress function is initiated after a questionnaire and the rating is monitored constantly from the user's wrist – the connection seems to drop out now and again, but the heart rate monitor works in a totally connected way all the time.
There's also moon phases, sun phases, tidal phase trackers and a sleep tracker, compass, SpO2 (blood oxygen tracker) — and of course, we've not said that you can answer phone calls with it (using earbuds, or speaking directly to the watch), so you can pretend you are in Star Trek after all now. Indeed, in years to come, we can no doubt expect video and more on these devices.
The HONOR Watch GS Pro rugged smartwatch is available at hihonor at an MSRP of £249.99 at the time of writing.