TSB chaos: When choosing bank people should look at core banking platform and not just funky apps
When consumers today chose which bank to use they will inevitable look at the digital services it offers.
Digital savvy consumers expect a great mobile and internet experience as well as easy ways to be identified such as fingerprint and iris scanners. They might even like the service that tells them about discounts on their local high street.
But perhaps they should ask more questions about the underlying IT at the bank. It isn't the most exciting part of the digital service but is critical.
Take the troubles at TSB this week. Customers have been experiencing serious problems using banking services. These include the indignity of not being able to spend their own money, money disappearing from accounts, and even money that isn't their own appearing in their accounts.
The reason I write this is because few consumers really understand the complexity of the IT that underpins banks. Why should they? Well if they did they might ask different questions when selecting a bank.
For example banks should be asked what their plans are in terms of core banking platforms, whether they have any big IT projects planned, and of course how up to date is the core banking system.
I am no expert on the tech but talking to people that are helps me understand the challenges faced by banks. If I can get it any consumer can.
Imagine if you had just used the seven day switching service to move from your retail bank of 20 years to TSB because of all the exciting digital services it is offering. You have a funky iris scanner to authenticate instead of passwords. Great. Unfortunately what you didn't know was that the bank has to migrate customer accounts to a new core banking platform and as a result you can't access any mobile and online services, and some of your money might appear to disappear.
The problems at TSB are probably only temporary and I am sure the new banking platform will make things better for the bank and customers. Once it gets over this pain it should have an advantage over many of the other traditional banks. But it should be a warning to consumers that their bank or the bank they are considering joining might have a core banking platform that is going to be replaced at some point, probably in the near future.
A TSB customer asked me if I knew anything about the TSB IT problems. I sent her a link to an analysis that I wrote about the problems and she was intrigued and shocked about the complexity of the banking IT. Consumers like me might not understand the inner workings of a mainframe or a mobile app and how the two interact but they understand complexity if you explain the number of different systems involved in providing a single service via a legacy banking IT infrastructure
I wrote this article a few years ago which shows the IT interdependencies of a single mortgage product at a large high street bank in the UK. Read it here or just look at the picture: The diagram that scares the next generation of banking IT professionals
Content Continues Below

Download this free guide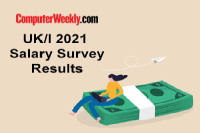 2021 UKI Salary Survey - Pandemic Infographic
We take a look at our 2021 Salary Survey results from over 300 respondents who work in the UKI IT sector. We will be breaking down which job functions get paid what, what areas of IT companies will be investing in in 2021, the current diversity landscape residing in the UK tech sector and how the pandemic has effected IT staff.