SAP APAC debuts Covid-19 app
German software giant SAP has built an app to provide its employees and customers with accurate real-time information on Covid-19 and guidance on how to cope with the virus.
Built on the SAP Cloud Platform and Qualtrics technology, the app was put together by a team of 10 people from SAP Asia-Pacific, including user experience designers and developers, database administrators and data scientists, in just two weeks.
Called Bridge-IT, the app collates information from trustworthy sources including the World Health Organisation, and combines it with specific country data, local government guidance, travel information and relevant company policies, to provide localised information for users.
It will be available for free to all SAP employees and customers globally who have an SAP Cloud Platform enterprise agreement. A public version with basic capabilities that can be deployed on non-SAP platforms is also in the works.
The app incorporates a standard set of data, including company policies, travel information, Covid-19 case numbers, health resources, and legislative updates, but can be adapted to include specific data or information as required. Additional functionality, including a digital boardroom feature, is set to be rolled out in coming weeks.
SAP said a customer from the pharmaceuticals industry has already rolled out the app which includes bespoke data on the number of Covid-19 cases searchable by hospital location. This helps employees at the firm predict likely demand for medical supplies and respond accordingly.
"This app is one of several ways SAP is helping to fight Covid-19 across Asia," said Scott Russell, president of SAP Asia-Pacific and Japan. "The volume of important information on the pandemic from a huge variety of sources – including employers, the government and health authorities – can make it hard to keep up.
"Bridge-IT is designed to help guard against Covid-19 misinformation and help people stay on top of important updates in the simplest way possible, so they can focus on their health, happiness, and well-being."
Content Continues Below

Download this free guide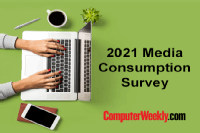 2021 Media Consumption Survey
Information is a powerful tool for IT decision-makers, and we understand that our readers enjoy consuming media in many different ways. With this in mind, we are trying to gain a better understanding of what content types our readership values the most. Please take 5 minutes to complete our media consumption survey, and help us shape our future content around your needs. As a thank you for participating, you will be entered into our draw to win a £250 Amazon gift card.