(What's the story) morphing Tory?
"You dressed up party lines as a fact-check service. That is dystopian," Emily Maitlis told Conservative Party chairman James Cleverly on the BBC's Newsnight after the leadership debate. But like a child who's worked out the worst a teacher can do is hand him a detention, he gawped back at her with the brass neck of a headteacher's son whose only after-school plans involved searing the legs off ants with his glasses.
She had a point, though. The governing party's press office Twitter account shapeshifting into the made-up "factcheckUK" during a debate certainly fell into the category of "not on".
It reminded us of when US comedian Jaboukie Young-White's verified account morphed into a doppelgänger of the official Cats movie account in the summer, blending in with the film's promoted material with a tweet that read: "The cats in Cats (2019) will have realistic spiked penises."
Young-White's poetry saw Twitter suspend him, but in this case the Tories got off with a warning: "Any further attempts to mislead people by editing verified profile information – in a manner seen during the UK election debate – will result in decisive corrective action." Downtime is therefore happy to report the end of Vladislav Surkov-inspired Tory skulduggery in this General Election.
Content Continues Below

Download this free guide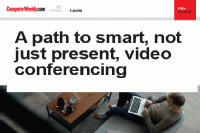 A path to smart, not just present, video conferencing
As businesses plan a recovery from the effects of the Covid-19. Employees now expect employers to offer a modern approach to how/where they work. It won't be enough for businesses to get by with aging processes. Wherever staff are based, video conferencing will be pivotal.