There wasn't much fanfare around Amazon Prime's midweek maiden voyage into Premier League football coverage. We'd have missed the delectable choice of fixtures altogether had we not opened the app to check on the order status of a used £1.81 hardback of Hugh Cudlipp's 1976 memoir Walking on the water.
That's what we love about Amazon: the fast and cheap procurement of out-of-print books with titles that prophesy a Gabriel Jesus brace. It's hard to care that it only paid 2% tax on £10.9bn UK revenues when you just want to find out how a former Mirror editor felt sacking their old mentor Cecil King for breach of conduct.
As you may have guessed, our evenings are relatively free, so we tuned in. Amazon's arrow logo, curving into a coy, Anne of Cleves smile that says "I'm extracting all of Earth's resources, ha" gently nestled inside the scoreboard; and former Manchester City midfielder Nigel de Jong – best remembered for kung fu kicking Xabi Alonso in a World Cup final – was one of many familiar faces in the punditry team. All in all, it felt about as guilt-free as asking Alexa to tell you a joke before saying "Alexa? I love you" in an empty room.
And so, just as Anne of Cleves escaped the guillotine, and Nigel de Jong escaped a red card, Jeff Bezos escaped reproach for seamlessly exploiting one more part of our lives. Cecil King could never.
Content Continues Below

Download this free guide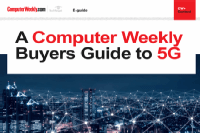 A Computer Weekly Buyers Guide to 5G
Despite the fears of many that rollouts of the next generation infrastructure would be delayed or just not be possible due mainly to the adverse economic conditions caused by Covid-19, the prospects are actually quite bright for the 5G industry in 2021. Download this EGuide to find out what enterprises need to know about 5G.