Jack Dorsey faces a battle to remain Twitter CEO, as the ruthless activist fund that just bought a 4% stake in the company continues to push hard to get rid of him.
Elliott Management, headed by notorious billionaire investor Paul Singer, has put forward four nominees to replace Dorsey, who currently splits his CEO duties between Twitter and payments company Square. Singer evidently sees a CEO with fingers in other pies as an obstacle to his raison d'être of boosting stock prices, which you feel simply can't be helped by Dorsey's plans to spend the year swanning around in Africa.
Dorsey, though a punching bag for the entire Twitter community, is our punching bag, and we remain on his side. We might have a pop at him for not clobbering every single neo-Nazi in Doberman-avatar clothing, but we'll be damned if some jumped-up twerp wades in with his poxy billion dollars and gets him sacked before us.
What do we even know about this Singer bloke? Well, Jonathan Bush, cousin of George W and co-founder of healthtech Athenahealth, has likened researching Singer's name once he's bought shares in your company to "googling this thing on your arm" and finding "you're going to die". Take care, Jack!
Content Continues Below

Download this free guide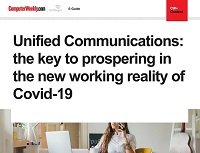 Unified Communications: the key to prospering in the new working reality of Covid-19
The coronavirus is changing everything about how people work, and will do so permanently. It added that even though the working world was experiencing unprecedented uncertainty, there were two things that should be borne in mind: the virus will pass, and at the other side of the pandemic, the world of work will look very different.