Amazon has had to rein in the artificial intelligence it was using to help vet job applicants after picking up on its male chauvinist tendencies.
As is the case with its human bigot counterparts, the recruitment engine's evident hatred of women was a learned behaviour. Most of the applications over the last 10 years came from men and led to the algorithm assuming they were better candidates – which, in its defence, is a better excuse for misogyny than, say, having tiny, little hands.
Isn't AI meant to work better than us instead of reinforcing the most glaringly unsavoury character flaws of our species?
If this carries on, more of our jobs will be under threat than first feared. Think about all those harrowing guests daytime TV rolls out to facilitate bizarrely balanced debates about topics like transphobic billboards or homophobic bakeries. If AI is just going to mirror how low humans can stoop, it would be cheaper for This Morning to start giving airtime to a machine that thinks the #MeToo movement is a lot of hysterical whinging rather than relentlessly tickling Ann Widdecombe.
For now, though, TERF strongman Graham Linehan must step aside. Easily as offensive and funnier by default, Amazon's sexist AI is society's hottest free-speech enfant terrible.

Download this free guide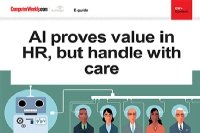 How AI is putting the 'human' back into Human Resources
Discover how the allocation of work by algorithm might have advantages for workers as well as employers, how AI is proving its value for HR and how data analytics is being used to support expansion and development.