Intrusion detection is alive and thriving
Back in 2003, Gartner declared that intrusion detection systems were a market failure and would be obsolete by 2005.
Six years and 3.7 million downloads later, Sourcefire is celebrating the 10th anniversary of Snort, the de facto standard for intrusion prevention and one of the world's most popular network security technologies. With 244,000 registered users, including 80% of Fortune 100 companies, Snort demonstrates that intrusion detection is far from obsolete.

Download this free guide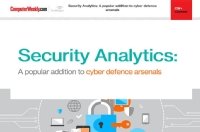 How to improve your cyber security with security analytics
Download this e-guide to read how many firms are looking to security analytics to keep abreast of the ever-evolving world of cyber threats. With traditional approaches to cyber security proving less effective against increasingly sophisticated and automated cyber-attacks, security analytics may well be your knight in shining armour.
It couldn't have happened to a nicer guy. Here's a nice shot of Marty Roesch, founder of Sourcefire and Snort, celebrating their tenth anniversary. I wish him another ten years of success. His products are excellent.