It's funny where a company's merchandise ends up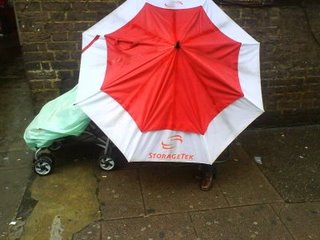 It always amuses me the way that a company's merchandise ends up in odd places.
So when I was caught in a massive thunderstorm in central London yesterday, I couldn't resist taking this pic on my phone.
A tramp was using this Sun StorageTek umbrella to protect herself from the downpour….I guess this wasn't the way Sun had seen it when it ordered I don't know how many umbrellas for brand building purposes.
Anyway the tramp was definitely grateful for it… I could have done with one too, but by then it was already too late as I was already soaked and resembling a drowned rat.
Thinking of storage, its Storage Expo again in about two months time. What will be this year's hot topics… data management presumably? Let me know what you think?
Or send me your pics of IT companies' merchandise ending up in odd places.