Hello 2019, same as 2018 (mostly)
"Nothing changes, on New Year's Day," sang U2 many years ago. This piece of self-evident wisdom doesn't stop the world of tech punditry from excitedly making hyperbolic forecasts at the start of every year on the assumption that opening up their new wall calendar will magically change the fortunes of the sector.
The technology development cycle will roll on during 2019 much as it did during 2018 and every year before. The stuff people got excited about last year will be pretty much the same stuff they get excited about this year.
Likewise, the challenges faced by IT leaders when they left for their Christmas holidays will not miraculously have shifted to something else by the time they return from their seasonal excesses. Maybe their budget might be a little higher this year, as CEOs increasingly accept they need to invest in digital and innovation to stay competitive. Just ask the failing high street retailers who were sure they could keep up against the convenience and popularity of internet shopping.
So putting aside the tech predictions, let's think ahead. What might be the things we're talking about in December, when we look back on the year? Here are five areas we think will be key influences:

Download this free guide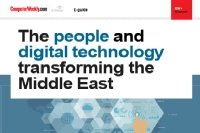 The people and digital technology transforming the Middle East
In this e-guide we feature an interview with a British Academic who is helping the UAE establish the world's first university focused on artificial intelligence (AI). Also, find out in this eguide how Abu Dhabi oil giant ADNOC is adapting its business in the digital age.