Going on a man hunt: win a netbook with Vodafone's Live Guy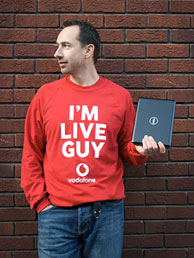 And so I got to wondering, with so many men in the city, why was it so hard to find just one? Was I destined forever to misread every signal, misunderstand each clue, take a wrong turning every time? Could it really be worth the effort of the hunt? But then, just as I had begun to lose hope, I turned the corner and there he was – standing to attention and ready to give me everything I'd ever wanted… [Carrie Bradshaw mode off now, please. Ed.]
Well, finding a man in the big city is never easy – but this Thursday and Friday it could be worth your while to search for one particular guy… regardless of your dating preferences.
Vodafone's Live Guy (pictured right), is on the run in in Reading (Thursday 27 November) and London (Friday 28 November), and if you're savvy enough to track him down, he has three fantastic netbooks to give away each day.
Thankfully, there's no need to dust off your chat-up lines either – he's been programmed only to respond to the magic phrase: "You're Live Guy and I'm a Vodafone winner!"
Live Guy has been touring the UK since 17 November, equipped with only a bright red sweatshirt and a Dell Inspiron 9 netbook – a mini-laptop with Wi-Fi and embedded mobile broadband. That's right, embedded: no fiddly dongles to worry about – it's the first of its kind in the UK.
Want a shiny new netbook? Of course you do. So to track down Live Guy you'll need to follow the clues he's been publishing on Facebook, Twitter and YouTube, which – thanks to the netbook – he's been able to access while on the move.
Even if you're not in Reading or London on the right days, you can still attempt to pin him down on Google Maps for a chance to win his fourth and final netbook each day.
Not only that, but thanks to Vodafone we'll also be giving a netbook away to a Computer Weekly reader in a new competition coming up very soon. Keep checking this blog for more news, and in the meantime, good luck with finding Live Guy – let us know if you do!
Find Live Guy and follow his travels at http://FindLiveGuy.com
Live Guy on Twitter: https://twitter.com/vodafoneliveguy
Live Guy on YouTube: http://uk.youtube.com/user/VodafoneLiveGuy