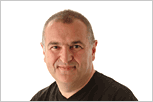 I recieved an interesting email from the nice people who manage TechEd online.
They look after a collection of videos recorded last November of various MS types pontificating on all and sundry.
Mark Ryan & I were drafted in to add some 'secure collaboration' content to the library and since that time our entry (can be seen here) has reached #3 in the most watched list. The top two were focussed on security as well as ours, it sort of shows what is on most peoples minds at the moment (other than the economy).
If you watch the video you will see me acting as straight man to the Groove Guru and it is only when I watch it now (3 months on) that I realise how nervous I was one month into my new career!