If you only watch one web video from the Olympics make it this one!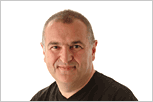 London 2012 will be fantastic, we are all excited about welcoming the world to this great capital.
It will be the 'fun' Olympics.
On Sunday evening in Beijing our new Mayor, Boris Johnson made a speech inviting the world to experience our games.
For those of you who don't know this great man he is a noted academic, journalist, bon viveur and wit – a true British eccentric – and he himself reflects the ethnic diversity of London with a mixed English, Turkish, Russian and German heritage.
Boris does not do 'politically correct' stuff, in fact he is often prone to gaffes but for a rousing, British and amusing kick-off for 2012 you cant beat this clip.
If you like it
watch him
playing football (soccer) against the Germans in a celeb match a couple of years ago – hysterical.
Those of you in the UK can see a better quality clip from the
BBC here
(it might not work outside of our geography)
BTW Ping Pong's coming home!