IBM - Moving forwards (in a backwards sort of way)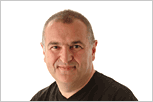 Information arrives at unexpected times. Yesterday, at London's venerable Church House, was the first day of the UK Lotus User Group (UKLUG). With an attendance of around 250 (up about 150% from last year), the keynote given by Lotus maven Ed Brill effectively announced Lotus Notes 2010 (or Notes 9 or whatever they decide to call it). Lotuspshere 2009 may have less to offer with that particular cat clearly out of the bag. I hope they have real goodies to offer.
It became apparent during the day that what has been painful for some has been to the benefit of others. Namely the surge that IBM has put into development around the Lotus brand is due to 850 developers working on the product family wordwide, mostly in China and India, and is probably at the expense of expensive home grown talent in the US. Such is the effect of the global economy.
From a UK perspective the success of yesterday's non-IBM event attracting Business Partners as well as Customers, highlights the paucity in communication between parts of Big Blue and its audience. This is especially true in the now re-energised Lotus brand. UK Business Partners in particular seem to be further and further excluded from the Yellow tent compared to a few years ago causing a break down in the once large, effective and vociferous community.
Additionally recent announcements around IBM's hosting offerings for Domino, actions where direct selling to the SME segment is actively undermining both small partners and Disti's, seems to be heading towards a channel conflict which inevitably ends in tears.
The UKLUG location of Church House and its main assembly room is the home for the General Synod of the Church of England. Off of the room are doors way where Synod members vote on motions, these doors are marked with large Aye's and Nay's. IBM needs to ensure that what remains of its UK partner communion (who believe in its technology) don't walk though the virtual Nay door as a result of the ongoing loss of relationship.
IBM for one does not need 'schism' around the Lotus Brand. Especially as after many years the team in product development seem to be getting more of it 'right'.