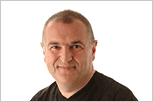 Earlier this week I predicted that Apple (and IBM) would be make some interesting announcement around Lotus yesterday (Thursday 7th March) – how wrong can I be.
It seems that the rumour that escaped just prior to Lotusphere really peeved the boys from the Infinite Loop and now a stony silence that has set in.
With Microsoft getting the drop on Lotus, Ed Brill has moved into a very effective defense mode (and its tough) to deal with the dissapointment that is already pervading the community.
I do hope that positive news comes along either before or at the same time as the upcoming Lotusphere comes to you events which are being held in Wembley and Manchester at the beginning of April