Big Brother just got Bigger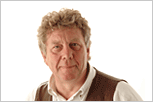 Following the UK's near nationalisation of the banking industry, government now has greater access to our financial identities (an idea being picked up in other territories). With the astonishing cost to the taxpayer being spun to us as 'public ownership' how can we be sure the powers-that-be don't get access to our personal financial details.
With 'money laundering' legislation used more for tax avoidance reasons than terrorist or drug dealing prevention we should shake-in-our-boots at the thought of banks being in the hand of politicians.
I am no conspiracy theorist – more of a believer in the 'law of unintended consequences – but big brother just got bigger.