You say SME, I say SMB, both need cloud service tomatoes now
Parallels has used its Summit 2013 conference to release its latest SMB Cloud Insights report. This is part of a continued bid to own as much as of the small to medium sized business cloud hosting service space as the firm can physically bite off.
NOTE: While the US uses the SMB naming convention to label small businesses, it is interesting to note that Europe, the World Bank, the United Nations and the World Trade Organisation all use the E for Enterprise SME.
Regardless of worldwide naming conventions and international law, Parallels adopts the Americanized label most preferred among our colonial cousins.
Now in its third year of circulation, this free report (you do have to register) sets out to profile the buying behaviour of SMEs with regard to cloud services.
"You say SME, I say SMB, both need cloud service tomatoes now," is our headline here as Parallels says it can confirm that SMEs remain the fastest growing segment for cloud services and the optimal target market for service providers of all sizes.
NOTE: The global market for SMB cloud services is (according to Parallels) expanding at a 28 percent CAGR to £60 billion by 2015.
In addition to offering its report this year, a Kano analysis and conjoint analysis has been undertaken — as a result of this, some of this year's research findings include:
• Storage is a strong upsell opportunity for Infrastructure-as-a-Service providers, and 50 percent of SMBs are willing to pay more for increased storage.
• Website building tools are a key way to differentiate service providers' offerings.
"Parallels SMB Cloud Insights research is core to our commitment to help service providers make both strategic and tactical decisions about the rapidly growing market for SMB cloud services," said Birger Steen, CEO of Parallels.
Parallels SMB Cloud Insights reports outline the cloud services that have the most current and future appeal for SMBs across four key categories:
• Infrastructure-as-a-Service (IaaS),
• Web Presence and Web Applications,
• Hosted Communication and Collaboration and,
• Business Applications (also known as Software-as-a-Service).
OK yes there are lies, damn lies and cloud SMB market statistics out there and Parallels has no doubt positioned its analysis in order to get the kind of results it wanted to get.
However, we can't state that black is white and the truth of the matter is that SMBs (whoops, sorry, SMEs) are a massive key growth area for cloud computing services.
Developers, developers, cloud SMB developers
A good barometer for this market and potential proof point for the above is whether the software application development community have been engaged i.e. that being because programmers, after all, do drive the user leading edge of what application services we will next be able to draw out of the cloud space.
This then is the first year that Parallels has hosted a software application development track at its conference and the day two afternoon session was hosted by Michael Toutonghi. This is the guy (he's an ex Microsoft employee) that wrote (OK not completely on his own but he has invention patents attributed to him) a good portion of .NET, the Command Line Runtime (CLR) and the Enterprise Service Bus.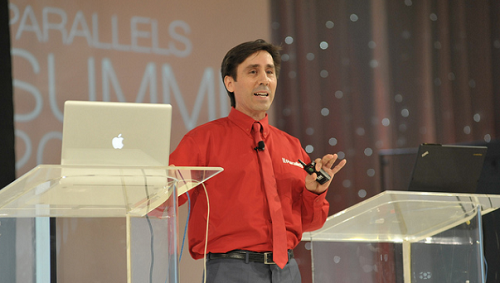 Toutonghi explained that in the developer track attendees could learn how to build packages to automate, provision, configure and bill cloud-based services according to the Application Packaging Standard (APS).
NOTE: APS is a Parallels developed standard which is indeed open, but it appears that it's not heavily peppered with random code commits from every independent developer you could name.
Anyway, the small to medium sized cloud has arrived and is continuing to arrive with increasing speed. Building the applications and ancillary services on top of these new virtualisation instances is where some of the smart money is today.