Virtualisation: A Manager's Guide
There are a lot of technical books published every year. I was even approached to write one once, but it was not to be. The pay is comparatively low, so does that mean that software programming guides from the likes of O'Reilly Media, APRESS and Wiley are always written by purists who really know their subject?
It's no guarantee is it?
The only way I can help promote any single technical book with any degree of accuracy is if I were to know the author personally — and luckily, in the case of O'Reilly's Virtualisation: A Manager's Guide, I do!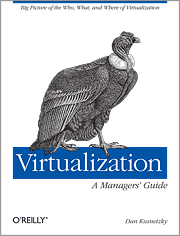 Virtualization: A Manager's Guide (to use the Americanised Z) is written by
Dan Kusnetzky, a true geek, a true technology guru and a true gentleman.
Kusnetzky presents a considered overview of how managers might first approach the use of virtualisation techniques across corporate network operations. Taking an explanatory approach to detail the concepts involved in this process, this book details the steps a company will need to take whether it is managing extremely large stores of rapidly changing data, scaling out an application, or harnessing huge amounts of computational power.
"This guide provides an overview of the five main types of virtualisation technology, along with information on security, management and modern use cases," say the promotional notes.
Topics include (and please excuse the American Z's):
• Access virtualization — Allows access to any application from any device.
• Application virtualization — Enables applications to run on many different operating systems and hardware platforms.
• Processing virtualization — Makes one system seem like many, or many seem like one.
• Network virtualization — Presents an artificial view of the network that differs from the physical reality.
• Storage virtualization — Allows many systems to share the same storage devices, enables concealing the location of storage systems.