VMware Explore 2023: Day one keynote noteworthies
VMware kicked off VMware Explore (the event previously known as VMworld) with a full-blown keynote as expected. The Computer Weekly Developer Network team attended this event and this piece is derived from live notes taken at the day one main session.
With generative AI on the agenda for every enterprise technology vendor of any reasonable size, attendees were perhaps understandably 'poised' for plenty of gen-AI updates in this event's main section.
Indeed, even before any human speakers took the stage VMware played a video of various tech vendor CEOs & CTOs all delivering those core 'data, cloud, AI, developer, digital skills, interface simplicity, automation and democratisation of access through natural language' messages that we all know so well.
Kicking us off for the event proper, VMware CEO Raghu Raghuram welcomed all attendees, partners, customers… and of course the VMware team itself.
"Over the last 25 years, VMware has worked on delivering some amazing innovations, but last May we decided to make a major innovation happen and join forces with Broadcom," said Raghuram – which is another way of saying that Broadcom was cleared by the Competition and Markets Authority (CMA) in August this year to buy VMware.
Moving on from the new corporate parentship, Raghuram reminded the audience that today's operational landscape is a multi-cloud reality. He referenced the same Cloud Smart thoughts that the Computer Weekly Developer Network covered in our day zero partner summary piece here.
VMware Cloud core
VMware president Sumit Dhawan who was featured in the day zero presentations took over from Raghuram. Talking about the need to reduce network and security operations in the VMware Cloud technology proposition, Dhawan assured the audience that he understands how much cloud infrastructure management organisations in every industry vertical really need today.
Into some news item specifics, VMware Cloud Foundation now features vSAN MAX, which is terabyte-scale disaggregated storage functionality. On the road to true multi-cloud networking, Dhawan notes that customers can now define their cloud networking and security policies just once – and then be able to apply them across any cloud in any form – so very much an ease of use within robust services situation and use case here.
Meeting each cloud journey
VMware Cloud itself comes in five formats to 'meet users wherever they are on their cloud journey' noted Dhawan – and in terms of accelerating application delivery, the company drives VMware Tanzu as a core product/service that offers a developer portal, secure supply chain technology, Kubernetes operations and the new Tanzu Application Engine technology that abstracts many of the cloud application properties that developers will need every time that want to build applications… and indeed smaller application services.
According to Danielle Burro, who leads portfolio product marketing for VMware's modern apps and management solutions, "Because we believe that developer agility and infrastructure agility are inextricably linked, VMware is expanding VMware Tanzu Application Platform into a product family to include both development and platform engineering capabilities."
Tanzu Application Platform offers VMware Tanzu Developer Portal, VMware Tanzu Secure Supply Chains, existing capabilities from VMware Tanzu for Kubernetes Operations and a new capability, VMware Tanzu Application Engine.
Looking at VMware's platform services designed to deliver autonomous workspaces, Dhawan says the Anywhere Workspace Platform enables virtual apps and desktops well as new apps-on-demand functionality.
In the area of software-defined edge (for the Internet of Things), VMware uses Audi as its key showcase customer to explain where its edge compute stack has been used in Audi's industrial control systems. This year sees VMware introduce Edge Cloud Orchestrator so that workloads run on edge systems are always up to date, as well as operationally consistent.
Generative AI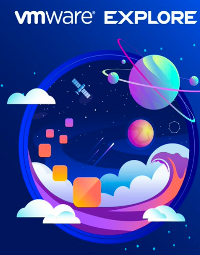 Moving to the company's main generative AI news, CEO Raghuram retook the stage to highlight the fact that VMware and Nvidia have now expanded their strategic partnership to help VMware's cloud infrastructure users to ready themselves to be able to run applications that take advantage of the next era of generative AI.
VMware Private AI Foundation with Nvidia works to allow organisations to customise data-centric foundation models to run generative AI applications and interact with them through the use of natural language and enjoy services that drive chatbots and assistants as well as search and summarisation services… all of which will happen (for the most part, for obvious reasons) in multi-cloud environments.
Raghuram thinks that generative AI and multi-cloud are a perfect match. "Together with Nvidia, we'll empower enterprises to run their generative AI workloads adjacent to their data with confidence while addressing their corporate data privacy, security and control concerns," he said.
Jensen, on the GPU button
According to Jensen Huang, founder and CEO, Nvidia the firms he and his team are talking to are moving fast (he actually said racing) to integrate generative AI into their businesses.
Nvidia BlueField-3 DPUs accelerate, offload and isolate the tremendous compute load of virtualisation, networking, storage, security and other cloud-native AI services from the GPU or CPU.
"Our expanded collaboration with VMware will offer hundreds of thousands of customers – across financial services, healthcare, manufacturing and more — the full-stack software and computing they need to unlock the potential of generative AI using custom applications built with their own data," said Huang.
Huang talked about the use of not just Large Language Models (LLMs) but giant-LMs. Perhaps not quite a de facto industry term yet, his emphasis on scale is of course pertinent. Because LLMs do not run on one computer, but can (and typically do) run across many computers powered by GPUs for acceleration, the dovetailing factor with VMware that will enable these systems to be able to orchestrate and manage workloads across these complex distributed systems could and should be a real enabler in this space.
VMware's CTO for Americas-region Amanda Blevin rounded out the keynote by introducing VMware Intelligent Assists – a means of interacting with VMware Tazu through a natural language interface. Talking directly to the network engineers and developers in the audience, Blevin promoted this new service's ability to make IT operations easier across platform teams, networking teams and end users teams.
That's a lot of tech in one keynote, we will unravel more of this news in product stories going forwards.