Unisys AMPS: management consultancy for software applications
Not a company to shirk at the opportunity to create a lengthy acronym, Unisys labels one of its core brands as AMPS SOA.
Application Modernisation Platform-as-a-Service for Service-Oriented Architectures (AMPS) for SOA is the company's approach for firms looking to undertake complex application modernisation projects.
In some ways, this is akin to a management consultancy service for enterprise applications i.e. when want to know which way to steer the corporate IT ship, you bring in some higher level direction and control.
But when and why do we need application modernisation?
Application modernisation in this instance might result from a much needed refocus on service oriented (or orientated) computing, which will logically sit comfortably with the cloud computing model of service-based computing.
Unisys offers a subscription-based service with a "pre-built software platform" designed to enables organisations to "jumpstart" their application modernisation initiatives without the need for upfront software licensing, hardware and systems integration investments.
"The pace of business today demands that organisations respond in near real-time to changing customer and competitive requirements – and yet most businesses and agencies continue to be constrained by old, inflexible applications that can take years and cost a fortune to change," said Andy Gordon, AMPS director, Unisys.
AMPS includes an initial assessment service, a subsequent strategy element where Unisys SOA experts work with the client's internal team to help craft an SOA enterprise-wide strategy.
There is also a governance model and an operational model for onward application development and modernisation work.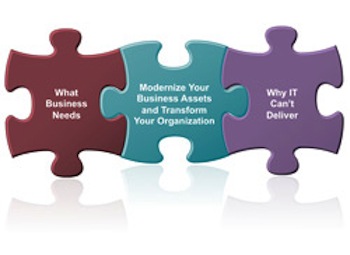 Image: Unisys
Unisys uses strong terms to describe the fifth element in AMPS, which is focused on full application lifecycle operational support:
"Unisys works with the client to create an ongoing operational model, institutionalise the governance model across the enterprise, and provide the support structure for information systems backup, integrity, contingency, incident response, maintenance, and awareness and training processes," said the company, in a press statement.