SAP TechEd 2013: ABC theory shows "we need processes to drive processes"
SAP kicked off its biggest developer, user and partner event this year in what tech chief Dr Vishal Sikka has called: "a time of reflection and transformation" during which every industry on the planet is being transformed by technology.
No keynote worth its salt is presented without an inspirational management theory — and SAP would not be one to disappoint here would it?
Doug Englebart's theory of ABC describes a company separating out its workflows as follows:
A – a firm's core goals
B – a firm's processes
C – a third silo of work focused on driving processes to improve B processes themselves
In practice Englebart's theory actually goes even further i.e. C in itself will drive better outcomes in B and, further, C can be turned back upon itself to create better "process process" management itself.
Given our global drive to move towards SERVICES AND PROCESSES… this could be a useful time to remind ourselves of this theory.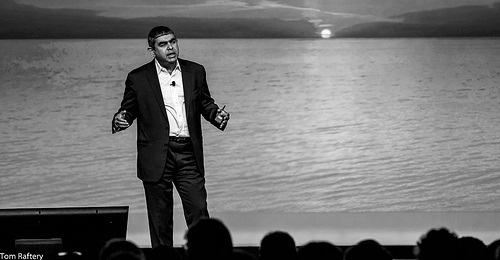 Image credit: Tom Raftery on http://www.flickr.com/photos/traftery/
"Dr Vishal: HANA is my little girl and she rides on the Hadoop elephant to perform analytics on the infinite data store when 'infinite needs' to be actioned as 'instant' instead."
After this big game intro, Dr Vishal compared SAP's core product (and his own personal darling "little girl") HANA in somewhat over-grandiose terms to innovations throughout history as important as the invention of the microscope, the surfboard and the Rosetta Stone…
… well, it is a keynote, you have to allow for a little over-amplified showboating don't you?
So What is SAP HANA today?
The company's HANA product has been on a progression path since it was introduced and SAP has openly honest about its "work in progress" state over the years, so where is it now?
… take a deep breath
HANA encompasses and includes a massively parallel in-memory columnar database and exists as a platform (for application services with its corresponding application libraries) for both OLTP and OLAP use cases … in both structured and unstructured data environments – capable of spanning legacy and new technologies – ready for enterprise deployment and capable of scale.
This is a prelude to SAP talking about its Fiori User eXperience offering.
This is a technology layer that sits above ERP, CRM, procurement and SCM, plus other silos such as the talent management silo (all of which the firm would like to see sat on the HANA cloud platform).
NOTE: 2000 customers are now using HANA and the firm says it has doubled its HANA revenue over the last year… "developers are now using the platform" — and applications have been referenced in banking, manufacturing, retail, healthcare as well as oil & gas.
In terms of product, HANA SP7 will now arrive in November 2013. This will be much more than just a relational database, it will be positioned as a real time data platform for applications. Also of note… River Definition Language will be featured in HANA SP7.
What the analysts say
"The main point that comes across to this audience is the transformation within SAP that is enabling a more business focused process enablement and development opportunities for its customers," said Alea Fairchild of the Constantia Institute.
"SAP is reorienting itself to better address the challenges of integrating its tools into a more harmonious platform offering leveraging the HANA investment and its service opportunities. Articulating its vision in a more visual mapping, the keynote touched on the different sides of the business and how they fit together, although this still needs a bit more clarity in terms of naming conventions," added the ebullient Belgian technical analyst.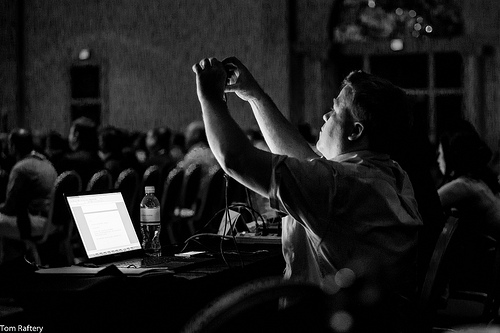 Image credit: Tom Raftery on http://www.flickr.com/photos/traftery/
— The very analytical Jon Reed in keynote action.
"SAP has built significant momentum around SAP HANA over the past two years, a platform which has evolved to include not only advanced database/in-memory technology, but also application platform services including mobile," said Charlotte Dunlap, sr. analyst for Current Analysis (Sterling, Virginia).
"The company is now challenged to build up its ecosystem of channel partners, especially those that will help SAP create innovative apps which will ultimately drive business to the platform's infrastructure services," she added.
Closing thoughts from day #1…
A good show from SAP then?
Yes, not bad at all. Quite modestly understated and Germanic if anything (although Dr Vishal thinks he's American now anyway) — SAP has launched a new big data brand and has real tangible applications being developed and evidenced upon HANA which were only shown at the end of the keynote rather than used as the main news.
Our main feature programme will continue with more news shortly…