NTT R&D Forum Day 1: A showcase spanning photonics to robotics
As previously noted here, the Computer Weekly Developer Network team found themselves in a far-flung location this week.
Not the usual Barcelona, Las Vegas or London conference venue, but NTT's own Musashino R&D Centre at Midori-cho, Musashino-shi, Tokyo.
A tour of the NTT R&D Forum facility headquarters is customary to start an NTT event, so press and analysts were taken around the exhibits which stretched across a multiplicity of use cases.
Technology on show covered applications such as remote crane operator systems, virtual bulldozer training simulators, artificial photosynthesis systems and video game controls for extremely physically impaired people who might be suffering from Amyotrophic Lateral Sclerosis (ALS) – the same ailment that Professor Stephen Hawking had… and even systems to help ALS sufferers be able to operate professional DJ equipment.
The event day one kicked off with a customary keynote session, delivered wholly in Japanese with supporting elements of simultaneous translation mixed with on-screen captions in both languages.
Akira Shimada, NTT representative director, president and CEO kicked off the main stage session with a presentation entitled 'Innovating a sustainable future for people and the planet' to get proceedings moving.
Thanking the audience for attending Shimada played an inspirational video (actually one that was used as an NTT Japanese television commercial) that asked 'if we create great technology, can it also make people happy?'… so the technology for good notion was perhaps here twinned with the concept of technology for feel-good as well.
Talking about the three major factors affecting the planet today – Shimada pointed first to the global labour shortage that exists across engineering and construction industries. Discussing the dramatic increase in data that we are dealing with in all fields of business, he suggested that we are facing many challenges that we can potentially address with technology.
Tsuzumi – Japanese drum & LLM
With the NTT 'tsuzumi' LLM in development as part of its IOWN strategy, the company says it is developing at every possible level in terms of the more impactful technologies in ascendancy today.
The term tsuzumi translates to a traditional Japanese drum.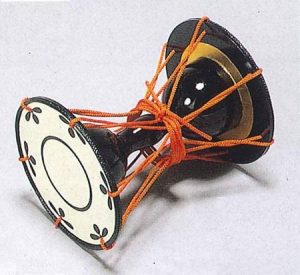 Detailing the capacity that NTT claims to be able to bring forward with its photonic-based approach and its IOWN initiative (explained in full in the Computer Weekly link at the top of this piece) the company says it is 100x more power efficient and it provides 125 times more transmission capacity than traditional silicon. Inter-chip connectivity also plays a role in the way NTT is bringing these technologies to market.
Let's remember that it is IOWN APN, with the latter acronym standing for All Photonics Network (APN).
Looking at how tsuzumi and IOWN APN can (and are being deployed) in real world work environments, Shimada spoke of NTT's work in public transportation to implement its solutions in taxis and buses to improve the way consumers can access mobility services, initially in Japan of course, but always with world market intentions.
Project Humanity is NTT's initiative to apply many of these technologies to human issues to solve real world life problems… which comes back to that first question the CEO posed i.e. can a truly functional great technology also make people happy? Clearly, it can if it is developed carefully and empathetically.
LLM+ x IOWN
A secondary session was entitled… LLM+ x IOWN: progress of IOWN, the birth of NTT's version of LLM and the interaction between the two. This was delivered by Shingo Kinoshita, senior vice president and head of the R&D planning department at NTT Corporation.
Because its multimodality is also a key feature in tsuzumi, it can work across both Japanese and English language applications and visual jobs where it works with both text and image recognition. This is not just image ingestion and recognition, we might show the LLM a graph of power consumption and ask it to calculate out calculations that can be inferred from the scale and curves and lines shown in a graphical schematic of various kinds.
NTT says it is 12th in the world (and perhaps unsurprisingly first in Japan) in the field of LLM development today. Keen to make sure its work in this space extends outside of the Japanese language, it covers a wide range of domains from specialised professional fields to entertainment in both Japanese and English.
Pointing to the wide number of exhibits (NTT like to call them showcases) outside in the company's R&D centre, Kinoshita urged attendees to get a 'hands on' experience with as many of the demos as possible. In truth, many NTT showcase dioramas are simply a screen and a spokesperson to explain the technology at hand to prospective customers and partners, but many also feature some pretty heavyweight hardware and working technologies with everything from headphones to the bulldozer simulation units mentioned above.
Overall, an NTT conference and demo tour is always a massively immersive experience with the wonderfully polite and welcoming Japanese staff precision trained on each piece of their software and hardware solution demo. With endless smiles, thank yous and bows, this event is as compelling as Japan itself is. While many lament the times past when Japanese technology ruled the world – if you remember Wang Computer and the 1908s – a new breed is certainly in creation.
But this new breed comes with a carbon-neutral consideration and some extra happiness, what's not to like?