Maryland duo drive tech-charged startup HUMANS
A pair of university students from Maryland USA have used the Indiegogo online crowdfunding site as the initial platform to launch HUMANS. The firm itself is dedicated to championing a variety of humanitarian issues through the use of emerging technologies and community enablement.
We're on a mission for good
Economics and computer science undergraduate Evan Thomas and his business partner Nick Neral are on a mission — and that mission is focused on promoting an ideology for a better future.
According to Thomas and Neral, "HUMANS is about working towards aiding and solving ideas such as poverty in communities and the need to transfer to renewable sources of energy to name just a couple of areas."
What is the HUMANS ideology?
The important thing to note is HUMANS is about tackling things step by step. HUMANS wants to work locally in communities. This means supporting programs helping the poor and volunteering to help the locals.
"Gradually as the company and message grows it is about tackling bigger and bigger issues such as hunger and working on getting basic living essentials to people that need them. The ideology we plan to build will then logically, strategically and carefully develop into areas such as energy and converting our world to renewable energy sources," assert the pair.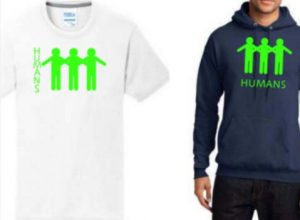 HUMANS is using Indiegogo to fuel an initial outreach for capital by selling T-shirts and sweatshirts with a suitably 'human image' style logo. Apparently just using the male form (in logo terms) at this stage, the firm will no doubt embrace gender equality in full as its develops.
Tech for the greater good
What marks out this project in particular is a) that it's a pair of university students working directly and immediately inside the tech-driven startup economy and that b) it's about humankind i.e. it's not just about making a quick buck.
If the green movement which first enjoyed an upsurge in the 1980s has created any legacy it is that our younger generation appear today appear to be comfortably 'native' with humanitarian issues. Thomas and Neral have clearly structured HUMANS with a view for the future and have stated that their goals will see them attempting to address cultural issues and wider learning ideologies.
HUMANS will focus its work in geographical territories including Africa, South America and beyond — anywhere humans need HUMANS, basically.