IBM Software Group GM talks application & integration middleware
It was only due to my own inability to squeeze 25 hours into a 24-hour period and make some more time for myself that I was unable to attend the recent IBM Partner World and Lotusphere conferences last month. I also missed last year's Rational Software Developers Conference, but did speak to an analyst pal who attended to get his opinion on the event.
"Ah IBM, there's a funny old company," he said warmly (Mr Collins you know who you are).
I put this gentle dig to IBM Software Group's GM for application & integration middleware Marie Wieck recently to get her feedback on this (albeit one sided) general perception of her company.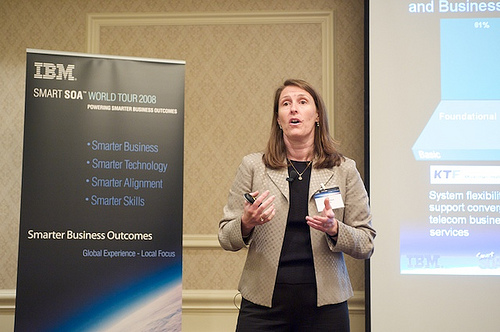 "We have definitely been trying to drive a change in our model and whole strategy around our smarter planet strategy — it's all about interoperability… and this is changing how we think about software application development, embedded systems and lifecycle development," said Wieck.
Ah interoperability! Microsoft has always been fond of saying that it has the power to insist that interoperability should be "baked in" from the start. Wieck has a good leveling opinion on this front…
"I don't think its realistic to think that you have a green field and can start by just saying that interoperability has to be baked in from the start — you have to work with elements of the system that is already in place and be pragmatic and practical," she said.
What of "IBM and open source" then? Those aren't four words that slip off the tongue too easily are they"
Wieck says that IBM recognises that open source is a good route for start-ups and that WebSphere Community Edition is a good example of this — plus WebSphere for developers is free of course.
"We are then there to provide the support and expertise — and we focus very heavily on TCO as we show 40% improvements over open source. We are very focused on the next release of Java — and in between each release of the language we produce free feature packs for integration with the appropriate IBM technologies."
There has been a bit of a cabinet reshuffle at the top of the IBM tree – so how does Wieck break down the massive entity that is the IBM Software Group these days?
"We split the software group into two teams — Rational and Websphere sit in the MIDDLEWARE team along with Tivoli and over in the SOLUTIONS team you can find smarter commerce, business, Business Analytics and Business Intelligence."
When it comes to strategic developer planning, IBM is keen to extol the virtues of UML first and foremost – but what other methodological and architectural planning mechanisms does Wieck think developers should be aware of?
Well, she was in the UK as part of a lab tour looking at transaction processing and application integration to try and further help enable the IT function to each out to the line of business function. NB: To say this a favourite IBM theme is like the understatement of the year. Wieck points out that right now the company has a big focus on business process management (BPM)after the acquisition of Lombardi around a year ago — and the acquisition of ILOG back in 2009. The company is also keen to talk about its work extending natural language rules to allow business people to adapt and automate business.
Wieck also talked about IBM's Blue Works live — a cloud-based business process management tool. In terms of Rational — the team is working closely with to help integrate Eclipse and Jazz.
So is there more? Yes of course there is, this is IBM, there's always more. But is IBM a funny old company? No not really, no more so than any other stalwart of the technology landscape. Remember to be careful when you talk about "old" IT or legacy systems — that often just means it's software that still works!
Will I have more to report on if I finally get to the Rational event this summer? Oh yes, you can count on it.