How to unlock and drive a car with a 3G iPad
Having been on something of a personal test drive with the latest Vodafone 3G connection offering for iPad recently, I have been trying to adopt the "mobile connected life culture" with great gusto.
Being able to instantly add apps to my device (whether I am in a WiFi zone or not) has obvious advantages.
During a visit to London by my American in-laws last week, I suddenly found myself with a need to guide four people around town for a couple of days and be able to act as a perfect tour guide.
My 3G connections via Vodafone performed well and I was able to use a variety of websites to answer the typical American tourist's questions such as, "How long has the palace or Westminster been here and what exactly did Oliver Cromwell do to warrant getting his statue erected outside?"
Four people in a SMART car?
But then I came unstuck. With four of us to ferry about, my SMART car started to look like something of a problem. Luckily I decided to Tweet while on the hoof and got a recommendation for the Zipcar service.
Zipcar's 11,000 self-service vehicles are available in an "on-demand" supply arrangement and parked around strategically placed reserved parking spots in neighborhoods in Bristol, London, Cambridge, Maidstone and Oxford as well as cities in the USA, Canada, Spain and Austria.
The company is reported to target densely populated city markets with a well-developed "middle class" layer and also university campuses and their surrounding communities.
According to Zipcar, "Car sharing seems like a simple enough idea, but there's a reason that Zipcar has become the leader for cars on demand–we took a simple concept to new heights. It's not just about less cars, less congestion and less pollution (though we're not complaining), it's about understanding why those things are a problem, and finding sustainable solutions."
So how well does it work?
I got registered with a quick call to a London based call centre who appeared to be native speakers of English as their first language, if that is politically incorrect then I apologise.
I was then automatically routed to the DVLA in conference to confirm my details all within less than 10 minutes. They located a car for me and booked me in as I signed in to a downloaded iPad app (no BlackBerry support unfortunately) and went off to wander out to find my vehicle.
As a central London resident one often expects convenience, my car was in fact parked three streets away and there were others almost as close.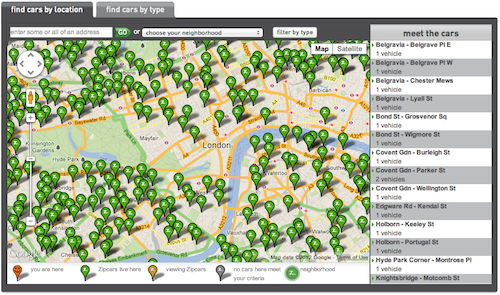 When I got to the "car club only" parking bay, the car had in fact been left in the wrong place by the previous driver — so a quick call to the call centre and they found the car via GPS and directed me to it whereupon I did in fact: make the car's horn honk to confirm its location and then unlock the car doors with my iPad (the keys are inside in a special chamber in the glove compartment).
This is the only flaw I can find in Zipcar's service, the firm depends on drivers calling them to tell them if they have had to park the car outside of its pick up location.
How much better would it be if the Zipcar system had just that extra piece of software integration built into it somewhere to ensure that the location data being calculated could be used to the full. The official line though appears to be "we rely on our members" and the firm has been growing since its inception in 2000, so perhaps I was slightly unlucky.
Is this on demand cloud style car delivery?
In many ways it indeed is. This could teach us even more about how we now not only programme our software applications but also how we consume all good and services.