Google Cloud hooks up dev tools in Looker
Enterprise organisations used to tell us that they had an 'IT stack'.
This term was meant to express the existence of a software estate sat on a variety of hardware resources with a selection of analytics tools, network topology controls and data channels.
People still talk about the IT stack, but now, increasingly, we're talking about the 'data infrastructure' that exists inside any given organisation — so much so that water cooler chats now circle around the level of 'data infrastructure investment' being carried out inside the business.
In light of this new reality and with this increased shift to data-centricity in mind, Looker (the business intelligence (BI) and analytics platform that is now part of Google Cloud) is being evolved for what is being called 'foundational optimisation' processes.
The company says that this latest release holds 'significant upgrades for application builders' and developer services.
Colin Zima, head of Looker analytics and strategy at Google Cloud talks about the ability to 'customize data experiences' and the special solutions coming from deeper integration with Google Cloud.
The new Looker Blocks for Google Marketing Platform were crafted to provide a foundation of shareable analytics for Google Marketing Platform advertising and web data.
"The customisable experiences offer interactive data exploration, new slices of data with light machine learning (ML) predictions baked in, direct links back to Google Marketing Platform to adjust campaigns and paths for pushing insights back into Google Marketing Platform," said the company, in a press statement.
Looker also improved the overall experience for model developers: a redesigned Integrated Development Environment (IDE) that makes workflows intuitive with more advanced controls; an object browser that simplifies product navigation and tracks and reuses available objects; a single repository that can be shared across instances to share model development; and folders that improve project organisation and collaboration.
Developer Data Dictionary
Available in Looker Marketplace, the new Data Dictionary allows developers to build an application using Looker's extension framework. It provides a dedicated and purpose-built UI to help business users find the field and metrics they need for analysis. It also provides the ability to quickly audit all LookML fields for visualising the relationship between datasets and explorers to understand what data sets are used the most and what explores are duplicative.
The development framework, announced in November as part of Looker 7 and now generally available, lets developers customise data experiences within Looker and embed those experiences into existing enterprise applications and workflows.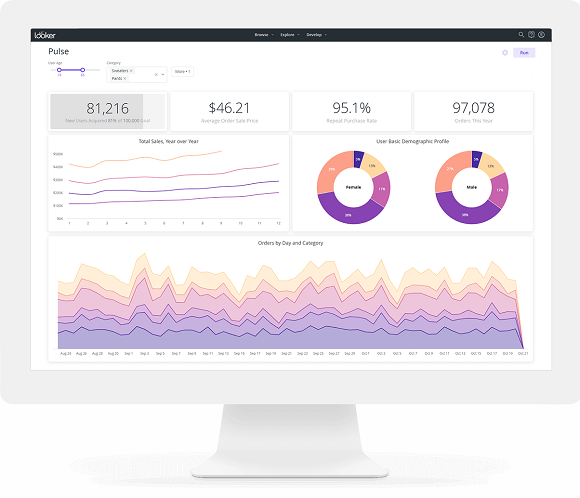 Image source: looker.com