Games (software development) without frontiers
Paris, France was this week's location for social gaming platform company Gree to hold its first European press conference.
Founded by Yoshikazu Tanaka (that's Tanaka San to you and me) — Japan's answer to Mark Zuckerbueg, Gree has been ranked as Japan's fastest growing tech company in 2010 and Tanaka sits on the country's rich list as well as the front cover of Forbes Magazine Asia.
Gree is no shrinking violet and has ambitions to become the largest mobile social gaming platform in the world and attract one billion users as its target within five years — so, yes, that effectively means taking on Facebook at its own game.
But the company asserts that it is distinctly different from Facebook and Zynga (the San Francisco-based social network game developers) in that the company has its own platform and its own games.
So should developers really sit up and look at what's happening in mobile gaming with social connections?
Tanaka asserts that mobile gaming is now bigger than console games in Japan – "In Japan, when we speak of gaming – we are talking about mobile social gaming," he said.
"The Gree platform is a global, mobile, social gaming platform that will connect gamers with high-quality content from around the world while offering developers access to a fully 'borderless' cross-platform network of high-engagement iOS and Android players."
• 14-language multilingual support is planned.
• The company claims to have 200 million users.
• Smartphone, set top box & consoles are the three game form factors to be aware of.
• Gree provides financial support for software developers.
• The company also partners with some of the big games houses.
For a self-made millionaire games fan Tanaka San doesn't smile a lot, maybe that's just because he's a hard grafter. His company has just announced an agreement with Ubisoft to bring a brand-new Assassin's Creed mobile game to the Gree platform.
The platform itself will launch in Q2 2012 — and the new Assassin's Creed title will be available in December in English and Japanese, with other languages to follow.
Ubisoft business development director Deborah Papiernik explained that although Assassin's Creed has sold 38 million copies to date in its console-based iteration, today as many 25 percent of her company's developers are now focused on online gaming.
Papiernik also said that Assassin's Creed has extended out into novels, cartoons, short films and movies. So a social mobile version of the game would seem to be the next logical step in the franchise.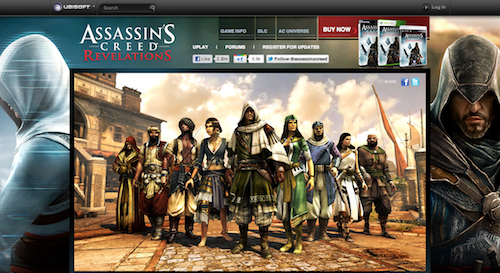 Gree has also partnered with another French games developer, Gameloft. This partnership is scheduled to produce the game Gang Domination on Gree.
So the Gree strategy may be insightful — it may even provide pointers for software application developers. The company says it will now continue to focus on building relationships with both third party game developers and big games house publishers as it moves towards releasing its new platform.
As a fan of very solitary console-based games I find it hard to see the attraction of a smaller screen with socially connected gaming options; but I know I am old and out of date and that this is the way forward for software games development.
Note: as this press conference was in Paris I did desperately want to use the headline Jeux (Software Development) Sans Frontières – vive le Entente Cordiale!