Developer antidote for Microsoft .NET -- SAP integration headaches
In 2015, it's okay to start your company name with a smaller case letter and end with capitals.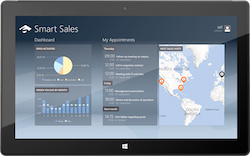 Taking this message to heart, enosiX (pron: EN-OH-SIX) has this month come forth with the 2.0 version of its own software framework.
The product is a means of integrating with enterprise resource planning (ERP) software — and the team has just achieved SAP certification for the SAP NetWeaver technology platform.
SAP's NetWeaver enables the composition, provisioning and management of SAP (and non-SAP) applications across a heterogeneous software environment.
Microsoft .NET connection
Through integration with the SAP NetWeaver Application Server component, the enosiX software is supposed to enable Microsoft .NET developers to create mobile applications that access back-end systems running SAP software.
The technology is rooted in both the Microsoft and SAP platforms, allowing the framework to manage integration from a .NET solution into SAP software.
CEO at enosiX Charles Evans insists that his software helps simplify how companies integrate SAP software into their mobility and integration projects.
80% of integration built in
"IT departments across industries are being inundated with business requests for mobile apps, and the resources available to fulfill these requests are limited. By tackling the SAP software integration process, with up to 80% of integration built in, enosiX Framework 2.0 enables these departments to take full advantage of the more plentiful .NET resources while expanding the bandwidth of developers highly specialised in the ABAP programming language," he said.
The argument here is… with less time spent on integration, experienced front-end developers can focus on product "experience" excellence for SAP customers.