AppDynamics goes full-stack deep with SAP Peak
If there's one word that has come up time and time again across the technology landscape in 2020 (apart from Covid-19 solutions etc.) then it has to be 'observability'.
This should come as no major surprise.
After all, the cloud model of increasingly containerised and widely componetised computing is essentially abstracted and virtual — so ergo, we need observability to be able to look inside (in-flight) applications.
But we've had some of these tools for a while i.e. the notion of Application Performance Management (APM) is not a sub-discipline of cloud, it is (arguably) a fully-fledged adjunct business stream that runs in parallel with the wider development track we are witnessing in cloud.
So then, what's next in (presumably cloud centric) APM and all-round app observability.
SAP landscapes & environments
AppDynamics (now a part of Cisco) thinks it could have some of the answer. The firm's 1 APM solution is this month bolstered by SAP Peak. An AppDynamics product not an SAP one (although no doubt built in close partnership) AppDynamics SAP Peak is a set of monitoring tools that connect the most critical components of SAP landscapes & environments with real-time business context.
In terms of Enterprise Resource Planning (ERP) penetration, SAP likes to remind us that 77 percent of all worldwide business transactions touch an SAP landscape in some form… so monitoring this stuff is important, no question there.
But (says AppDynamics), "Limitations with SAP has meant that technologists have struggled to identify performance issues across their SAP landscapes and the applications they connect."
What happens then is no surprise i.e. outages, issues with core transactions and lengthy mean-time-to-resolution (MTTR) — all of which are not good, obviously.
Full-stack observability
AppDynamics SAP Peak monitors real-time SAP logs, metadata, background jobs, S/4HANA database events and the application server. So, it's a full-stack observability play across SAP and non-SAP components before, during and after migration (to S/4HANA or the cloud).
"AppDynamics SAP Peak is the only solution that gives enterprises a single source of truth of their SAP landscapes with the real-time business context needed to prevent and resolve problems that could have a negative impact on the user experience and in turn, overall business outcomes," said Vipul Shah, chief product officer, AppDynamics.
Shah explains that SAP Peak builds on AppDynamics' existing SAP monitoring solution by providing new and advanced functionality, including:
Business iQ for Business Scenario Transaction Analytics

: Bringing visibility into to how bottlenecks are impacting business processes by allowing users to monitor key SAP business scenarios.

ABAP Code-Level Visibility:

Provides base-level APM functionality for SAP monitoring that includes transaction/code level visibility, dynamic baselining, easier Root Cause Analysis of issues, reduced MTTR and application flow maps of the SAP ABAP stack.

Deep SAP Performance Insights:

Supplies dashboards that display performance metrics, logs and events for the overall SAP landscape, including processes outside of the user business transactions.

Server and Network Visibility:

Facilitates full-stack visibility across SAP landscapes to identify and isolate infrastructure performance issues.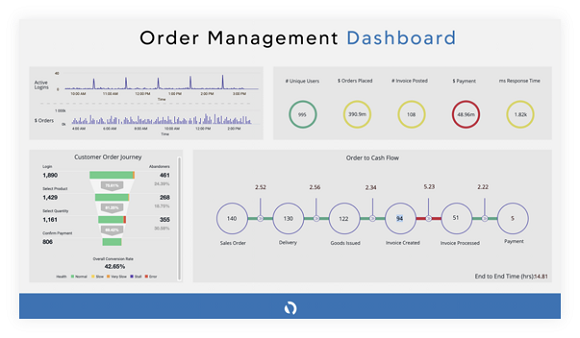 Approved image use – source: AppDynamics