The cloud migration checklist: What to consider
In this guest post, Sarvesh Goel, an infrastructure management services architect at IT consultancy Mindtree, offers enterprises a step-by-step guide to moving to the cloud.
There are many factors that influence the cloud migration journey for any enterprise. Some of them may trigger change in the way software development is approached, or even internal service level agreements, and information security standards.
The risk of downtime, and the knock-on effect this could have on the company's brand value and overall reputation, should the switch from on-premise to cloud not go to plan, is often a top concern for some.
Below, we run through some of the other issues that can dictate how an enterprise proceeds with their cloud migration, and how their IT team should set about tackling them.
Application architecture
If there are multiple applications that talk to each other often, and require high speed connections, it is best to migrate them together to avoid any unforeseen timeout or performance issues.
The dependency of applications should be carefully determined before moving them to the cloud. Standalone apps are usually easier to move, but it's worth being mindful that there are likely to be applications that simply aren't cloud compatible at all.
Network architecture
There could be a few applications that require fast access to internal infrastructure, telephone systems, a partner network or even a large user base located on-premise. These can rely on a complex network environment and present challenges that will need to be addressed before moving to cloud.
Alternatively, if there are applications that are being served to global users and require faster download of static content, cloud can still be the top choice to provide customers with access to local or closer locations for content. Such examples include the media, gaming and content delivery industries.
Business continuity plan
Business continuity and internal/external SLA with customers often drive the application migration journey to cloud for disaster recovery purposes.
Cloud is an ideal target for hosting content for disaster recovery. It provides businesses with access to certified datacentres, hybrid offerings, bandwidth, storage and all at a lower cost.
The applications can be easily tested for failover and customisations can be made to hardware sizing of applications if and when disasters occur.
Compliance requirements
There could be legal reasons why personal or sensitive information needs to remain within enterprise's firewalls or in on-premise datacentres.
Such requirements should be carefully analysed before making any decision on moving applications to cloud, even when they are technically ready.
IT support staff training
Undertaking a migration requires having people on hand who understand the cloud fundamentals and can support the move.
Such fundamentals include knowledge of storage, backup, building fault tolerant infrastructures, networking, security, recovery, access control and, most importantly, keeping a lid on costs.
Disaster recovery
For businesses around the world, including Europe, building a disaster recovery solution can be expensive, difficult, and requires regular testing.
Many European cloud vendors offer services on a pay as you use basis, with built-in disaster recovery, application or datacentre failure recovery, and continuous replication of content.
Using cloud for disaster recovery could provide a significant cost reduction in terms of infrastructure hardware procurement and the maintenance of the datacentre footprint.
Organisations could also choose disaster recovery locations in the same region as the business or several thousand miles away.
To conclude, once the applications are tested on cloud, and the legal/compliance concerns are addressed, organisations can opt for rapid cloud transformation.
This allows the development team to adopt the cloud fundamentals and use the relevant tool sets for rapid scaling of applications and create a more robust application experience, embracing all the power that cloud provides – not to mention the fallback option that gradual cloud migration provides to enterprises.
Content Continues Below

Download this free guide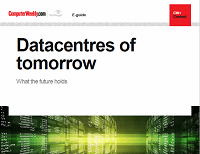 Datacentres of tomorrow: What the future holds
New technologies are widely-tipping to become a mainstay of datacentres in the future. Learn about new and emerging technologies that look set to shake-up the way datacentres are managed, monitored, powered and cooled as well.