Data protection, backup and archiving
Read more about related Storage topics:
In Depth :

Data protection, backup and archiving
How did a brilliant but fragile teenager from a rural English town end up facing life imprisonment in the US? Computer Weekly speaks to Lauri Love Continue Reading

In the first of a two-part survey, we look at the hyper-converged infrastructure market and the startups providing VM-native servers and storage, and datacentre-in-a-box products Continue Reading

Flash storage doesn't just come in traditional drive format and PCIe card. There are significant outliers in the market that make use of custom flash modules, flash/Dimm and QLC Continue Reading
View All In Depth

Download this free guide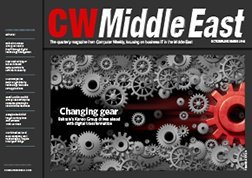 Reinventing Bahrain's Kanoo Group through digital technology
In this quarter's CW Middle East ezine, we feature the IT journeys of three companies in the region with detailed analysis of recent IT projects that were designed to support business transformation in a changing world. We hear how Bahrain-based conglomerate Kanoo Group is dealing with a company-wide digital transformation, Zahid Group's ...
Blog Posts :

Data protection, backup and archiving
Information management company Veritas used the second day of its Vision 2016 user, partner and customer event to dig down a little deeper into the data universe and talk about how and why 'all ... Continue Reading

Information management company Veritas holds its Veritas Vision 2016 conference (hashtag #vtasvision) on September 12-14, 2016 at the Aria Resort and Casino in Las Vegas... so what can we expect? ... Continue Reading

LTFS – the Linear Tape File System – seemed like a great idea when it emerged but not many storage vendors seem to have made much of it. It puts a file system on top of a tape library and turns it ... Continue Reading
View All Blog Posts
Opinion :

Data protection, backup and archiving
IT departments' moves away from specialised skills to generalist skillsets are fuelling the rise of easy-to-use hyper-converged infrastructure and all-flash storage systems Continue Reading

Research study looks at the challenge of building a storage infrastructure to meet the rapidly changing needs of business Continue Reading

Hybrid cloud storage keeps some data on-site while the rest goes to the cloud. But what data should go where in a hybrid cloud setup? Continue Reading
View All Opinion
Videos :

Data protection, backup and archiving
Midverk IT manager Jon Helgason speaks to Computer Weekly's Cliff Saran about recovering from a party that brought down the company's datacentre

Making sense of storage in a big data world

One of the dilemmas of the modern CIO is the ever-expanding need for data storage.
View All Videos