The NHS IT project is dead, but why do large IT projects so often fail? Part 2.
The £11bn NHS IT project looks has been scrapped.
By coincidence I have been doing the rounds recently asking industry experts why they think large IT projects fail. This is for a feature I am putting together, which will appear on Computer Weekly soon.

Download this free guide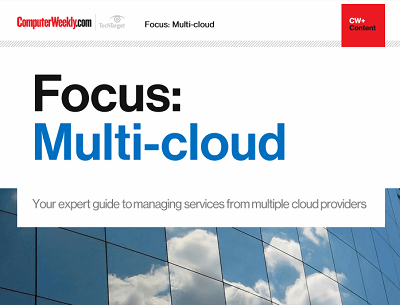 The maturity of the enterprise public cloud
Many IT leaders are increasingly coming round to the idea that sourcing services from one or more providers might be the best way to go. Join us as Computer Weekly takes a closer look at the multi-cloud approach and what providers are doing to capitalise on the trend.
By submitting your personal information, you agree that TechTarget and its partners may contact you regarding relevant content, products and special offers.
You also agree that your personal information may be transferred and processed in the United States, and that you have read and agree to the Terms of Use and the Privacy Policy.
Now that it looks like the NHS National Project for IT is dead and buried it seems apt that I start to publish the views of some of the experts on why large IT projects fail.
I started yesterday with the comments made by Brian Randell. He is a professor of at the School of Computing Science at Newcastle University.
He was a member of the group of academics who became concerned about the UK National Health Service's National Programme for Information Technology (NPfIT). He edited the dossier documenting the concerns. See it here.
Today features Anthony Finkelstein. He is professor of software systems engineering at University College London (UCL) and dean of UCL Engineering. Active in industry consulting, he is a fellow of the Institution of Engineering and Technology (IET) and the British Computer Society (BCS).
So why do large IT projects fail?
Finkelstein says: "The Standish Group in its methodologically dubious but nonetheless useful, CHAOS reports cites reasons such as: inadequate user involvement, unclear business objectives, failure to control scope, poor architecture, requirements volatility, unsystematic development process, unreliable estimates. None of these would come as a surprise to any IT professional. The more interesting challenge is why therefore do we appear to be bound to repeat these same mistakes? I would argue that the problems are more fundamental and not essentially technical – they lie in governance. That is, in the structure of relations and incentives that bind together the business and IT functions of an organisation. An organisation with a flawed governance structure cannot articulate its requirements, charter a project, identify appropriately skilled staff, manage the concomitant change process, determine if the project has been successful or even deal with the consequences of failure. Governance is becoming more complex as we increasingly have organisations with federated and outsourced business structures. We will neither understand project failure nor be able to address the causes until we have addressed governance."