News
Stay informed about the latest enterprise technology news and product updates.
Don't let your outsourced IT service turn to horse meat
This guest post looks at the risks associated with outsourcing to multiple suppliers without the right level of management in place to make sure it does as it should.

Download this free guide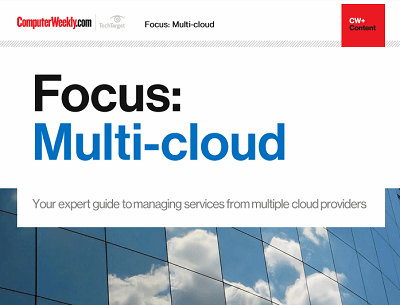 Mixing and matching your cloud options
Many IT leaders are increasingly coming round to the idea that sourcing services from one or more providers might be the best way to go. From a cost and resiliency perspective, some workloads might work better in one cloud over another. Or a certain provider might boast some functionality that suits a particular process the enterprise is looking to implement, but falls short in other areas, prompting the company to adopt a mix-and-match procurement strategy. Join us as Computer Weekly takes a closer look at the multi-cloud approach and what providers are doing to capitalise on the trend.
By submitting your personal information, you agree that TechTarget and its partners may contact you regarding relevant content, products and special offers.
You also agree that your personal information may be transferred and processed in the United States, and that you have read and agree to the Terms of Use and the Privacy Policy.
It comes from Paul Cash. He is managing director at ITSM services supplier Partners in IT.
When it comes to outsourcing, out of sight shouldn't mean out of mind

By Paul Cash

"What can users of IT outsourcing learn from the horse meat scandal that gripped the media earlier this year? As with the problems with the NHS 111 phone line, the lessons to be learned are around the complexities of managing multiple suppliers in a highly sophisticated supply chain. We found ourselves unwittingly tucking into pony burgers because the retailers had failed to keep track of an incredibly complex network of suppliers. And while those suppliers' lack of quality control created the problem, the country's supermarkets get the blame from the consumer, demonstrating that the one thing you can't outsource is responsibility.

Outsourcing of IT services can be a particularly attractive solution to organisations for a number of reasons – removing the burden of day-to-day management of services, reducing costs and having the knowledge your infrastructure is in a 'safe pair of hands'. For these reasons, the market continues to burgeon with Gartner predicting that the worldwide IT outsourcing (ITO) market will reach $288bn in 2013. However, the ITO market is becoming much more complex, partly as a result of technology development and specialisation, and partly in response to downward pressure on costs from customers.

Ensuring that outsourcers deliver

Companies increasingly tend to buy on a 'best-of-breed' basis, selecting not one outsourced supplier but multiple vendors. The result is typically several 'best-of-breed' players in 'service towers' with little attention paid to how these different vendors will be coordinated into coherent single service provision. This leads to a confusing supply chain and one that demands more effort from the buyer than in the past when, historically, a single service partner might have delivered all these services and required less management.

If responsibility can't be outsourced then it's still the job of the business, and ultimately the IT department, to ensure that outsourced services are delivering as promised and to measure them accordingly. The question for many businesses is just how to do this? As standard, outsourcing agreements have Service Level Agreements (SLAs) in place; as such, many businesses think this protects them from poor service. However, if they aren't looking at the right metrics, or indeed measuring them until the job is done, then they are running serious risks of delivering sub-standard service.
Putting the right tools in place

How can IT departments avoid these kinds of issues? First, they must ensure that a service management layer overlays all the towers with their individual SLAs, and that this includes a good service catalogue with the SLAs clearly defined within it, as recommended by ITIL. This approach has recently been endorsed by the UK government with the 2012 publication of a draft Service Integration and Management (SIAM) framework. While this is primarily designed for the public sector, commercial organisations can learn from it in terms of controlling an array of 'best-of-breed' suppliers.

In parallel with the creation of this service management function, organisations also need to ensure that they have the right tools and processes in place to ensure that they can track performance and ensure coordination of the different suppliers. There is a range of increasingly sophisticated tools on the market which can deliver these requirements, including those required by SIAM, providing they are configured in the right way.

Ensuring that metrics really measure

Most importantly, businesses should ensure they have adequately defined the metrics they need to track performance across the various service towers on a continuous basis. Defining these indicators is obviously complex, and will depend on each individual business's requirements. But organisations can identify the right metrics for them by understanding their own level of maturity and how well the IT function is integrated into the wider business. Broadly, there are five key levels of ITSM excellence:

• Business alignment: monitoring how closely IT services are supporting strategy and delivering customer satisfaction
• Process: defining the right SLAs, and tracking performance against them on an on-going basis
• Technology: measuring the investment, deployment and performance of infrastructure
• Organisation: aligning people with technology, process and SLAs, and ensuring the right skills are in place
• Culture: the experience of doing business with the IT function

Learning the hard way

Major supermarkets indeed learned the hard way that merely publishing a written specification was not enough to maintain quality and reputation. Corporations with multiple IT subcontractors and outsourced services equally need to ensure that they manage traceability and accountability on a continuous basis if they want to avoid similar damage to reputation and results through sub-standard IT services. There are process definitions, standards and products that exist to ensure greater compliance and quality control throughout the IT supply chain – businesses that do not embrace these, or fail to establish appropriate metrics, run the risk of uncovering poor outsourcer performance when the damage is already done."