English: A Union jack jacket. (Photo credit: Wikipedia)
David Cameron recently said he wants us to be less "bashful" about our Britishness.
So, despite Britishness being a largely subjective notion that embodies different characteristics for different people – which are constantly changing and evolving, alongside our societal norms and
values (get to the point, Ed.) – Downtime decided to compile a few thoughts on how technology enthusiasts might display a bit of Britishness in their own lives.
To get the ball rolling, we suggest you kidnap Stephen Fry, Duct-tape him to a chair and force him to record a quintessentially British answer phone greeting on your mobile in his mellifluous,
trademark
received pronunciation.
If he co-operates, give him a cup of Earl Grey and a rich tea biscuit. If he refuses, why not utilise a British-themed method of torture? Threaten to smear Marmite over his eyeballs and shoot Lea & Perrins up his nostrils, while playing the GoCompare jingle full-blast on a stereo.
If he's still reluctant, tweet "Millwall fans are POO POO HEADS!" from his Twitter account, throw him on the front lawn and run – fast. Then, film the ensuing assault on your iPhone before uploading the footage to Facebook as a nod to the charmingly British phenomenon of happy slapping.
Since you're now complicit in several high-profile crimes, you've no choice but to follow in the footsteps of eminent Brits Ronnie Biggs and Lord Lucan by scarpering abroad ASAP. The good news is that, once you've reached Puerto Rico and written your best-selling Penguin Guide to Kidnapping Stephen Fry, it'll be easy for you to dodge tax in true British style, like fellow Englishmen Gary Barlow and Jimmy Carr.

Download this free guide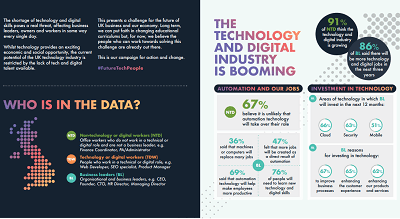 Infographic: Future-proofing UK technology
The shortage of technology and digital skills poses a real threat, affecting business leaders, owners and workers in some way every single day. Whilst technology provides an exciting economic and social opportunity, the current potential of the UK technology industry is restricted by the lack of tech and digital talent available. This presents a challenge for the future of UK business and our economy. Long term, we can put faith in changing educational curriculum but, for now, we believe the people who can work towards solving this challenge are already out there.
By submitting your personal information, you agree that TechTarget and its partners may contact you regarding relevant content, products and special offers.
You also agree that your personal information may be transferred and processed in the United States, and that you have read and agree to the Terms of Use and the Privacy Policy.
Now sit back in the sun, take a swig of Pimms and know that you've done Cameron and dear old Blighty proud – ideally to the sound of Elgar's Nimrod.