News
Stay informed about the latest enterprise technology news and product updates.
What is the public interest in Universal Credit IT?
Here's a question for you to ponder: What is the public interest in Universal Credit, the government's flagship welfare reform programme?
My guess is that the public would be very interested to know how the Department for Work and Pensions (DWP) spent over £300m of public money on developing IT only to find that some, most or even all (depending on whose opinion you believe) will be thrown away.

Download this free guide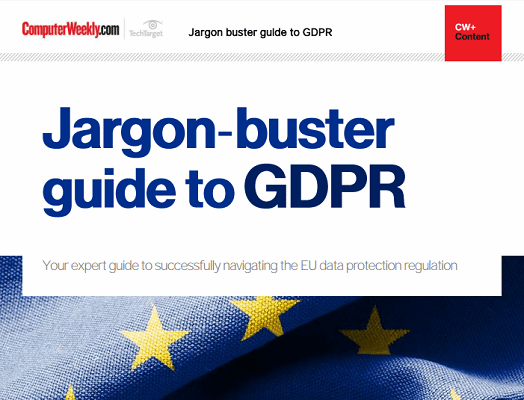 Jargon-buster guide to GDPR
The 10 most important things you need to know about GDPR, and a jargon-buster explanation for some of the key terminology.
By submitting your personal information, you agree that TechTarget and its partners may contact you regarding relevant content, products and special offers.
You also agree that your personal information may be transferred and processed in the United States, and that you have read and agree to the Terms of Use and the Privacy Policy.
I would also guess that the public would like to know if the four IT suppliers that have received most of that cash have provided a quality, value for money service in return for the public's hard-earned taxes.
Perhaps you disagree? I would be very happy to hear your views – please comment below.
We do, however, know for sure that the DWP disagrees.
Computer Weekly has been trying for the past couple of months to obtain through freedom of information (FOI) rules a number of key documents produced during the "re-set" period of the Universal Credit programme.
The re-set, you may recall, was the period earlier this year that came about after officials realised the project was in a complete mess and so they set about trying to find out why and what they could do about it.
We know this much thanks to the recent revelations from the National Audit Office (NAO) and the Public Accounts Committee (PAC).
Our FOI request has now been formally refused, citing exemptions in the FOI Act whereby "the public interest for and against disclosure [has] to be balanced". The justification that DWP provided for its decision is instructive in itself. Here is what the DWP wrote in its response:
"We recognise that the publication of all the information requested could provide a greater understanding of the costs, benefits, risks, issues and progress steps of the Universal Credit Programme and so help inform a wider public debate.
"However, we have to balance this against the fact that the withheld documentation includes details of a sensitive nature whose publication would be likely to inhibit free and frank discussion and be likely to prejudice the effective conduct of public affairs.
"These documents were designed to be used to drive an objective analysis that supports assurance of the Programme and consideration of whether it should proceed. There is a strong public interest in the Department maintaining efficient and effective programme management and in ensuring that this process is not undermined by premature disclosure."
Let's pick out a few salient phrases in particular:
"…publication would be likely to inhibit free and frank discussion"
This is an old favourite of civil servants and politicians when denying FOI requests – the idea being that publishing certain information would inhibit those in Whitehall from saying what they think if they knew their comments would later get into the public domain.
The fact that not publishing the documents totally inhibits free and frank public discussion of the issue is clearly less important to those involved in the project.
"…likely to prejudice the effective conduct of public affairs"
It would be nice to be able to see the documents in the hope they will demonstrate at what point in the Universal Credit project were public affairs actually being conducted effectively, given the scathing criticisms of the NAO and PAC.
"…consideration of whether it should proceed"
Here is the first evidence that DWP has actively considered whether or not the Universal Credit IT programme should continue or be scrapped. What greater public interest could there be than learning about what brought Universal Credit to the point that it needed an "objective analysis" of whether it should proceed or not?
"…ensuring that this process is not undermined by premature disclosure"
So does this imply that the information will at some point when it suits DWP be disclosed? DWP has said it plans to announce the next steps for Universal Credit shortly – it would be a welcome move if it also released the documents it used to come to that decision.
Three of the reports Computer Weekly requested were singled out for special response in DWP's letter, namely:
Independent Value for Money (VFM) Review, dated 4 February 2013
Independent VFM Review – IBM, dated 18 March 2013
Universal Credit: Value Report – Accenture, dated 28 February 2013
These are the self-assessments by IT suppliers of the value for money of their own work – reports which, so the PAC hearing heard, represent a clear risk of conflict of interest; "Marking their own homework" as one committee member put it.
It surely cannot be anything but in the public interest to know whether these suppliers have provided value for money – even if it is based on their own self-assessment rather than any independent or public domain analysis.
On our FOI request for these documents, the DWP wrote:
"These three reports provide a 'value for money' assessment of the four key suppliers involved with Universal Credit: IBM, Accenture, HP and BT. The disclosure of information of related financial information would be likely to harm the commercial interests of the Department (as a public authority) and those of the third party suppliers. This would not be in the public interest.
"On balance the Department is satisfied that the public interest in maintaining the exemption cited above outweighs the public interest in disclosure of the information sought."
Well at least here the DWP is absolutely correct. It certainly would harm the commercial interests of the suppliers to disclose that their work has not provided value for money. And it would be in the public interest to know.
If, however, the suppliers have in fact provided value for money, surely it is in the suppliers' interests for the public to know that too?
All of these documents were provided by DWP to the NAO as part of the watchdog's audit – it was the NAO report that first revealed their existence.
But even the MPs on the Public Accounts Committee struggle to get such documents out of the NAO. This is not unique to Universal Credit, but represents a major restriction on full and frank analysis of how public money is being spent.
PAC member Stephen Barclay recently wrote an article for The Spectator lamenting this very fact:
"Committees often lack source material. Consultants PwC undertook a review on Universal Credit which was not shared until the night before the hearing. The Home Office has still to disclose the business case for the £1 billion e-borders IT system, despite repeated assurances to do so. And next week the Public Accounts Committee will report on Universal Credit without access to a review penned by Howard Shiplee on his first 100 days overseeing the project, which will leave the committee's report lacking key insights on the pivotal issue of IT," he wrote. (Note that the article was published in advance of the PAC report he refers to, which came out earlier this week).
Barclay states in his article that such secrecy is undermining the role of select committees in their key task of holding Parliament to account.
If even MPs are not allowed to see and discuss information that is in their interests, what hope does the public have?
The NAO highlighted a culture of secrecy around Universal Credit as one of its many failings. There continues to be little evidence to suggest that is about to change.