Transforming IT at HM Revenue & Customs - Phil Pavitt, CIO for HMRC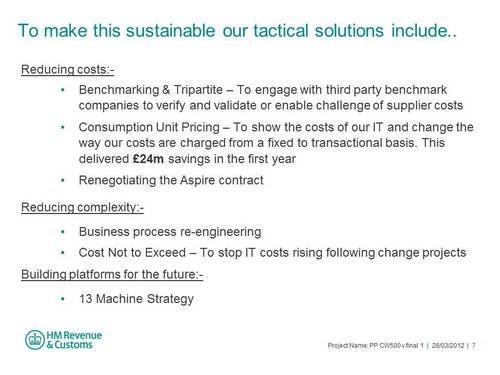 Reducing IT costs
Pavitt has two "secret weapons" in his arsenal to help him reduce HMRC's IT costs:
1. Benchmarking and Tripartide
All IT contracts now go through benchmarking to ensure they represent value for money.
Pavitt, who pioneered the idea in his previous role as CIO at Transport for London, uses Gartner to source a like-for-like quote for each project.
"It's a like-for-like comparison, as best you can. And we pay the supplier to quote it, because they are never going to win the business," said Pavitt.
If the quote is cheaper, HMRC's supplier must match it. The tactic has saved HMRC £80m in the year to March, Pavitt revealed.
2. Unit pricing
Pavitt has mobilised HMRC's own finance directors to help him keep IT costs down.
Everytime an employee uses part of the IT estate, the details are recorded, and costs allocated on a unit pricing system. The results are sent directly to the finance director of each department.
Finance directors have identified and returned thousands of un-needed SAP licenses to the IT department, along with thousands of unused telephones and hundreds of laptops.
"I saved £22 million came off my operational costs in first few months. It was nothing to do with the IT department, it was all through the finance directors," he said.
Download Phil Pavitt's PowerPoint presentation here
View All Photo Stories