Nominet Trust 100 tech for good list: The organisations driving change
Nominet Trust releases its annual guide of 100 organisations across the globe using technology to drive positive change
Technology is driving change in even the most unlikely of places, from government platforms to small internet-enabled businesses.
Every year, social technology funding organisation Nominet Trust releases the NT100, a list of organisations that use technology to drive positive social change. The list is one of the ways Nominet Trust aims to drive social good around the world, as well as through funding and partnerships.
Vicki Hearn, director of Nominet Trust, explained that the NT100 is a "platform to spread the word" about organisations using technology for good causes.
"Digital technology gives them an arena to do something creative. Some are in different locations and some are in different stages and phases in the life cycle, but they're all shining examples in their own right," said Hearn.
The organisations that make it onto the list are decided through a large effort which includes public nominations, social interaction and research teams working with hubs with local knowledge. However, the question underpinning the final list is: "What has the potential for the best impact?"
According to Hearn, the process can be difficult as everyone working on the list will have their own favourites, with social change being "a really personal thing".
"In different places in the world, different technology has a different effect. They're pioneering people and they deserve our support," said Hearn.
There are a number of UK innovators on the list. Some of them describe below how they're using technology to drive social change on a local and global scale.
Andiamo
Andiamo uses 3D scanning and printing techniques to create orthotic devices for young people with disabilities.
As mentioned by Hearn, many of the ventures on the NT100 are personal, and that is certainly the case for the founders of Andiamo, who started their initiative when their son needed orthotics.
Samiya Parvez and Naveed Parvez, co-founders of Andiamo, realised it could take up to six months to receive a moulded orthotic devices and if it did not fit it would be discarded without any notes taken on why it was unsuitable.
"All of that data – all of that information – was in the bin," said Naveed.
Andiamo set out to create an end-to-end system that could scale worldwide, using 3D scanning to measure patients and 3D printing to make custom-fit orthotics.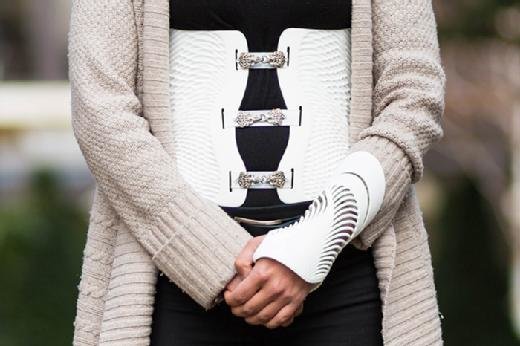 An example of Andiamo's 3D printed orthotic devices.
As patients are 3D scanned, the traditional method of using plaster to form a mould is replaced, and a quicker printing time means the orthotics are more likely to fit a fast-growing child.
Data is then collected about the patient and their needs, and the scans are adapted to print new orthotic products, keeping an ongoing record of a patient.
This is much less expensive and much faster than traditional methods, as many products can be printed at once using cheaper materials. The once stressful and long-winded process is now shorter and better serves patients.
The founders believe Andiamo is one of the only companies "making 3D printed products that aren't prototypes".
"We've put bits of tech together to make this service and we have cut the wait time from six months down to less than a week," said Naveed.
Azuri PayGo
Azuri PayGo is a pay-as-you-go system that uses solar power to provide homes in sub-Saharan Africa with cheaper energy.
The organisation targets places where people are paying above the odds for poor solutions for light and charging, but are also using more smartphones.
Kieran Reynolds, vice-president of operations at Azuri, said the service has "piggy backed" on the smartphone phenomenon, which predicted 75% of the smartphone market would be attributed to emerging countries in 2015.
Farmers in these locations especially need light, as they need to properly sort crops to sell to customers, usually in outdoor market-style stalls.
Azuri PayGo installs solar panels on the roofs of homes in the area, along with a control panel that is connected to the solar panels and internal lights or energy sockets.
The control panel acts as a billing box and customers can pay using a mobile app, which will then provide a unique code for the control panel, allowing energy collected from the solar panels to be used to power lighting and devices.
The boxes are fitted with machine learning to monitor the times customers typically use their lights, and then adapt the output for the rest of the day to ensure enough power is available when the customer needs it most.
This has led to an increase in both productivity and profitability, where individuals have access to cheaper lighting around the clock, especially in the instance of small businesses that can now sort crops later or keep selling products when there is no natural light.
"With a light on outside they can see their customers longer," said Reynolds.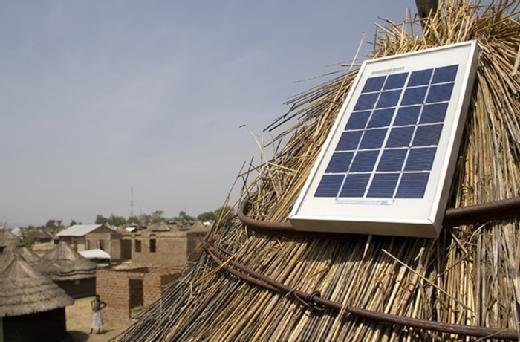 An Azuri solar panel providing energy to a home in an African village.
It has also helped with the education of children in the areas where light is available later.
"Children in households with lights study two to three hours longer," added Reynolds. "It's about using technology intelligently so that we provide a good solution for the customers."
After 12 to 18 months, individuals will have paid off the installation cost and can choose to unlock the system for their own use, which will last around five to seven years, or choose to install another round of pay-as-you go upgrades.
"The original idea wasn't set up to change the world, but we realised that it could," said Reynolds.
GyroGlove
GyroGlove is an initiative started by medical students to help stabilise tremors experienced by sufferers of Parkinson's disease.
The firm has created prototypes of gyroscopic gloves which use gyroscopes to equalise excess movement caused by muscle spasms.
Faii Ong, co-founder of GyroGlove, explained that the firm aims to "give back independence" to patients with a condition where medication often stops working or has dramatic side effects.
Ong originally came up with the concept when a 103-year-old patient he looked after as a trainee lost too much weight as her hand tremors made it difficult for her to feed herself.
"Our focus is restoring quality of life. Others don't realise how debilitating it is," said Ong.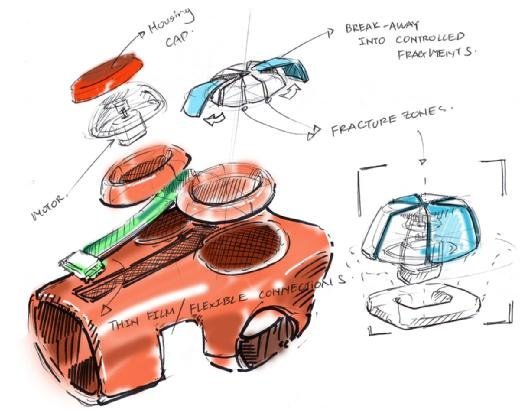 A concept design of the GyroGlove.
GyroGlove is built up of a multidisciplinary team, partnered with organisations and engineers to build working prototypes of hand-steadying equipment.
Ong explained that in the beginning, as much revenue as possible will be injected back into research and development to make a functional product to suit the patient's needs.
"We're trying to do something right the first time around," said Ong.
Instant Detect
A concept born from the Zoological Society of London (ZSL), Instant Detect is an infrared camera system installed in remote locations to reduce poaching.
Satellite-connected cameras monitor wildlife, sending near real-time pictures that act as an early warning system for rangers if an endangered species in the area is being targeted by poachers.
Time-lapsed images are sent via satellite with a five to seven-minute delay, depending on the size of the image sent, which will vary depending on what's captured.
This allows for 24/7 monitoring of larger areas where rangers may not be able to send patrols.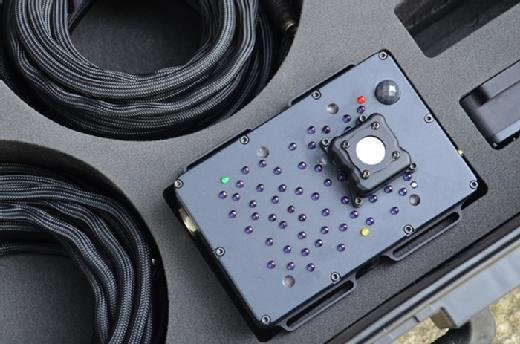 Part of the equipment of the Instant Detect system.
"We came up with it as a way to increase coverage – you don't have to deploy a person," explained Louise Hartley, conservation technology unit project manager at ZSL's Instant Detect.
The technology is currently in use in Kenya and Antarctica, where rangers can view the satellite images sent from cameras from a desktop user interface.
The next innovation of the device will see mobile ground sensors deployed to pre-warn rangers of large vehicles passing through monitored areas.
TalkLife
TalkLife acts as a network for young people to talk about mental health issues with their peers.
Jamie Druitt, the firm's CEO, explained that the application was created, after tackling some mental health issues of his own, to allow users "to ask those silly little questions that come up".
"I knew I wanted to tell someone, but I couldn't find anywhere to reach out to people with similar experiences," said Druitt.
The application acts as an online forum, currently used on university campuses, where people can talk about problems they have had. It can also act as "first early intervention" for people who might soon need further help before mental health services step in.
TalkLife is in partnership with firms such as Microsoft Research and the Massachusetts Institute of Technology (MIT) to see whether posts and language could be used to detect if someone is about to enter a spiral, after Druitt found himself wondering what could be done with live mental health data.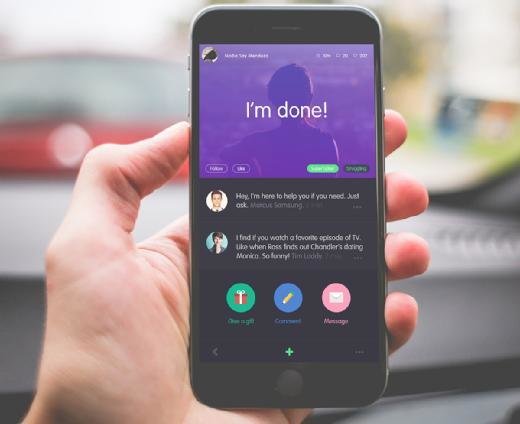 The TalkLife app allows people to give or receive help about mental health easily.
Currently there are a team of administrators that oversee the open forum, but users can manipulate their own settings to avoid particular topics that could act as potential triggers.
Users can state whether they're "here to help" or "need help" depending on if they're using the forum to seek help from other people or to provide support for others.
Every post is monitored to quickly detect and take down trolls. The app currently caters based on age brackets starting at over 14s.
The application's users are weighted at 80% female. Druitt stressed that the main aim of the app is to provide a support network for its users.
"We're not looking to grow for the sake of growing," said Druitt. "It's nice to be in London, there's support for social entrepreneurship."
Read more about social technology
A number of simultaneous hackathons have been held worldwide to promote the use of technology to encourage peace.
The Open Data Institute has spent the past two years funding startups to build applications that could solve socio-economic problems.
Read more on IT innovation, research and development